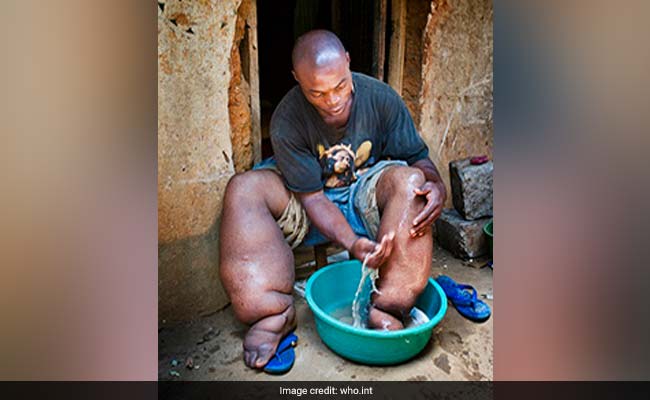 NEW DELHI:
Lymphatic filariasis, also known as elephantiasis, is a parasitic disease caused by infection with roundworms of the family Filarioidea. As per WHO data, India contributes to 40% of the infection burden worldwide and LF is prevalent in 21 states across the country. India had set the ambitious target of eliminating filariasis by the year 2020, but experts have suggested that is an ambitious target given the circumstances.
A mass drug administration program to protect people from LF has been underway since 2004 under the flagship campaign '
Hathipaon Mukt Bharat
'. The aim of the program is to deliver preventive medicines to high-risk communities with specific focus on the four most endemic states: Uttar Pradesh, Bihar, West Bengal and Jharkhand. The goal of MDA is to reduce the density of parasites circulating in the blood of infected persons and the intensity of infection in communities to levels where transmission is no longer sustainable by the mosquito vector.
Amar, a farmer was left partially disabled when he was diagnosed with Lymphatic filariasis 25 years ago. "I have eight children who now take care of me but we faced economic hardships", he said. Despite both Amar and his wife suffering from LF, awareness is low. Amar says, "none of my children take the medicines because we thought only those suffering should take the drugs. People in our village don't even know it is caused by mosquitoes". The last round of MDA in Uttar Pradesh took place on February 10-12 in 20 districts that included Gorakhpur, Khushinagar and Barabanki. The next round is scheduled for March 19-21 for seven districts.
In Bihar, Madan Singh copes with erratic fever due to Lymphatic filariasis and it grateful to the ASHA workers who create awareness in the community. "There is no stigma attached to this but a lot more awareness is required to control the situation. ASHA worker do their bit but it requires more if we want to end the disease", he said.
The National Health Policy aims at elimination of Lymphatic filariasis by 2020 with the use of mass administration of the drug diethylcarbamazine, Albendazole and mosquito control measures.
The worm blocks the lymphatic system which causes swelling in the legs, arms and other part of the body, making them look large puffy and elephant-like. Although filariasis does not kill, it causes lifelong disability and imposes severe social and economic burdens on the affected individuals and their families. The disease is spread by a parasitic worm and is transmitted among people by mosquito bites.