Highlights
Justice J Chelameswar one of 4 judges who addressed media in January
The judges had gone public against Chief Justice of India Dipak Misra
The 4 judges are not part of benches hearing important cases like Ayodhya
New Delhi:
Stressing that there should be transparency in the way cases are allocated, Justice J Chelameswar, the second most senior judge of the Supreme Court, has said there should be a basis on which sensitive cases are assigned.
There should be transparency, else it will lead to suspicion, said Justice Chelameswar, one of the four judges who held an
unprecedented press conference
in January this year saying "things are not in order" with what they described as the "administration of the Supreme Court".
The judges went public against the Chief Justice of India (CJI) Dipak Misra after a case relating to the death of CBI judge BH Loya was assigned to a judge who is number 10 in the Supreme Court hierarchy.
Judge Loya, who died of a cardiac arrest in 2014 while attending a wedding in Nagpur, was handling a fake encounter case in which BJP chief Amit Shah was an accused. Mr Shah was discharged by the judge who replaced judge Loya.
"The question is -- what is the basis on which some sensitive matters are allocated. I am not dying for any glory but are we following any system," asked Justice Chelameswar at a public event in Delhi.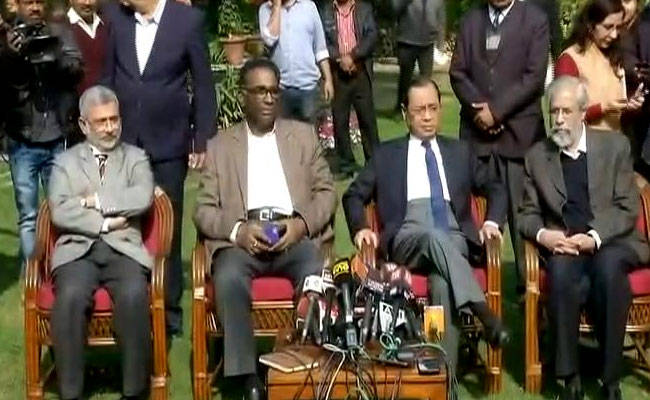 The four judges who held the press conference -- Justices J Chelameswar, Ranjan Gogoi, Madan Lokur and Kurien Joseph -- are not part of the benches that are hearing important cases like the Ayodhya title suit and validity of Aadhaar.
"I can handle whatever case is given to me. I bother more about what I contribute," said Justice Chelameswar while answering questions at the event on the 'Role of Judiciary in a Democracy'.
Saying that he was "struggling" to know why his order on referring a medical scam case to a bench having the five senior most judges was overruled by the CJI, Justice Chelameswar said "I still believe I was acting within my powers".
The
order was passed
in November last year by a two-judge bench on a petition seeking a probe into corruption allegations against a retired Orissa High Court judge. But it was later invalidated by a bigger bench headed by the CJI that said only he could decide the composition of benches.
Acknowledging that the CJI was the "master of the roster" and has the authority to assign cases, Justice Chelameswar said the power "should not be exercised because it exists".
Against the backdrop of a possible move by opposition parties to bring impeachment proceedings against the Chief Justice, Justice Chelameswar said impeachment was not the solution for every problem.
Set up a proper system so that suspicion and doubts won't arise, he said.
Asked if he feared Justice Gogoi, who is tipped to be the CJI after Justice Dipak Misra retires in October, won't be elevated, Justice Chelameswar said he hopes not.
If it happens it will prove whatever we said in the press conference, he added.
Justice Chelameswar, who retires in June this year, said he will not take any employment from government after his retirement.