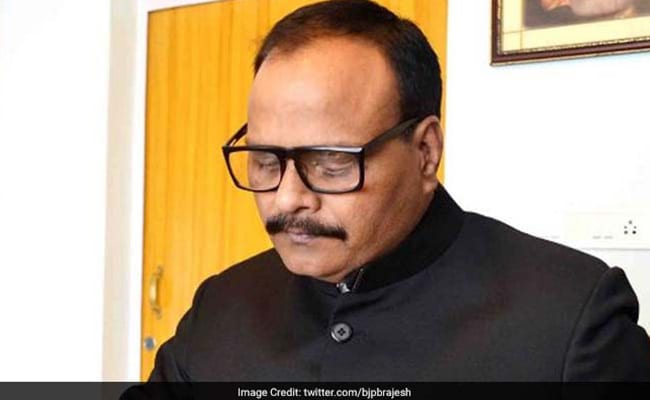 Lucknow:
Seeking to clear the confusion over the proposed withdrawal of 20,000 "politically-motivated" cases in Uttar Pradesh, Law Minister Brijesh Pathak has said that not all cases filed against politicians will be dropped.
"Chief Minister Yogi Adityanath has decided that politically-motivated cases will be withdrawn. Unfortunately, the message got circulated that all cases registered against politicians will be withdrawn. It is not so," Mr Pathak told PTI in an interview.
Yogi Adityanath government's decision will pave way for the withdrawal of a case against the chief minister himself - and a dozen others - for allegedly organising a meeting in violation of prohibitory orders more than 22 years ago.
Apart from Mr Adityanath, who also holds the home portfolio in the state government, Union minister Shiv Pratap Shukla, BJP MLA Sheetal Pandey and 10 others were respondents in the case registered at Gorakhpur's Pipiganj police station in May 1995.
The case is pending before a Gorakhpur court, which had issued non-bailable warrants against the accused for not appearing before it.
Brijesh Pathak, however, said the cases likely to be withdrawn largely pertain to demonstrations and violations of prohibitory orders during protests by politicians.
"Basically, the cases in which innocent people were framed because of political reasons will be withdrawn. We are going to reduce the number of cases. We are going to implement complete digitisation of courts. UP is the first state where permanent lok adalats have begun to function in every district," he claimed.
Asked about the cases against politicians accused in matters related to the riots in Muzaffarnagar in 2013, the minister said, "I am not going into specifics. All I am saying is that cases which were registered to please a person or for political reasons will be withdrawn."
Asked to explain what he meant by political cases, Mr Pathak said these include "danga fasaad (rioting), dharna (agitation), protests, somebody coming under a roadways bus (in protest), a crowd which suddenly went out of control and damaged a bus, etc. Cases of this type...which were registered keeping in mind a particular political ideology will be withdrawn."
In May 2016, soon after Yogi Adityanath took over as chief minister, his government had told the Allahabad High Court that he cannot be prosecuted in a separate case for allegedly making a hate speech in Gorakhpur in 2007.
The speech allegedly triggered communal riots in Gorakhpur, Mr Adityanath's home turf. He has represented the Lok Sabha constituency five times.
The UP government has refused to grant the mandatory sanction for his prosecution.
The approval was needed to file a chargesheet against Adityanath under IPC Section 153-A for allegedly promoting enmity between groups on grounds of religion and caste.
Yogi Adityanath, then a Member of Parliament, had made the alleged hate speech after a youth died in clashes between two groups during a Moharram procession. He was arrested and had to spend 10 days in jail before being released on bail. The charge is punishable with imprisonment of up to five years.
During the last session of the state legislature, the government had got the Uttar Pradesh Criminal Law (Composition of Offences and Abatement of Trials) (Amendment) Bill, 2017, passed. Days later, Governor Ram Naik gave his assent to the bill.