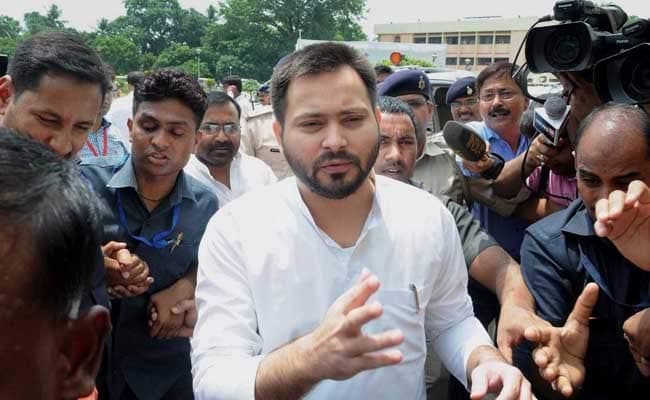 Patna:
Rashtriya Janata Dal or RJD leader Tejashwi Yadav today reiterated that there was "no requirement" of Bihar Chief Minister Nitish Kumar in the grand alliance and expressed apprehension that the BJP may dump him before Lok Sabha polls.
Inaugurating the party's 22nd foundation day in the absence of his father and party chief Lalu Prasad Yadav, Tejashwi Yadav, who served as Mr Kumar's Deputy during the erstwhile grand alliance government, made it clear that the RJD would not have any alliance with the JD(U) even if Mr Kumar offers him the post of chief minister.
"I don't want to be the chief minister because of someone's favour. I will be the CM if people of the state bless me," Mr Yadav said.
Dispelling media reports that the grand alliance comprising of RJD, Congress and Hindustani Awam Morcha (HAM) of former CM Jitan Ram Manjhi was willing to take back Nitish Kumar, the RJD leader said Mr Kumar was not needed.
"A kind of atmosphere is being created that grand alliance is ready to accept Nitish Kumar. Sorry, there is no requirement of you (Nitish Kumar)... We are capable enough to make both BJP and JD(U) bite the dust at the hustings," Mr Yadav added.
He also came down hard on some leaders for signalling that it would be impossible for the grand alliance to defeat BJP without bringing Mr Kumar in its fold.
"Why some people are getting anxious about getting him on-board. I've neither read nor heard if he (Nitish Kumar) has expressed his willingness to join the alliance," he said without taking any names.
Noting that he was aware that Mr Kumar was having "difficulty" with BJP but he wasn't expressing it, Tejashwi Yadav asked the Bihar chief minister to make a sacrifice like his father Lalu Prasad Yadav and step aside.
"You (Nitish Kumar) should now take retirement and ask JD(U) to extend support to us, we can consider that," he stated.
Leading the party in the absence of Lalu Prasad Yadav, Tejashwi Yadav exhorted the workers and leaders to get ready for the upcoming polls.
"As far as I think, BJP may dump chacha (Nitish Kumar) latest by Lok Sabha elections and may hold simultaneous elections to both Lok Sabha and Legislative Assembly," said the leader of opposition in the Bihar assembly.
Tejashwi Yadav's elder brother Tej Pratap Yadav, omission of whose name from the invitation card of the function had added gist to speculation of a rift within the family, attended the day-long event and in show of unity, blessed his younger brother as he crowned him on the dais.
A number of posters at the venue included Tej Pratap's newly-wedded wife Aishwarya Rai with other family members signalling her possible entry into public life. However, she chose to skip the event.
This is the first time that Lalu Prasad Yadav was not present at the foundation day function of the RJD which he founded in 1997 after separating from the Janata Dal.
Convicted in fodder scam cases, he is presently recuperating at a hospital in Mumbai after ax fistula operation. His wife and former chief minister Rabri Devi was also not present at the function.