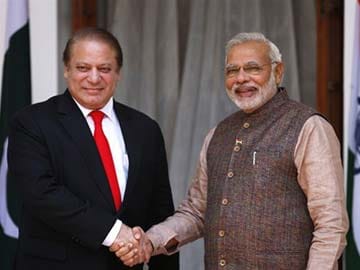 New York:
Prime Minister Narendra Modi and his Pakistani counterpart Nawaz Sharif will not hold bilateral talks on the sidelines of the UN General Assembly in New York this week, but an "informal handshake" is not ruled out, top sources have told NDTV.
Sources say neither side has shown any interest in setting up a formal bilateral, but a handshake, an informal photo-op and exchange of pleasantries, were the two leaders to meet each other at the UN, is still a possibility.
The Pakistan premier's UN speech on Friday will be a big factor in whether even a step aside chat between the two leaders will take place.
"Mr Sharif's UN address, whether he mentions Kashmir, will be monitored carefully before any next steps are decided," sources said.
PM Modi will address the UN a day later.
In August, India called off talks with Pakistan over its envoy's meetings with Kashmiri separatists. The move marked a giant step back for diplomatic ties that soared after PM Modi, in a surprising move, invited Mr Sharif to his swearing-in ceremony in Delhi in May.
Sources say the two foreign ministers, however, may interact freely in a group, as they did on September 12 during the Shanghai Cooperation Organisation Summit in Dushanbe.
As part of the "neighbours first" policy, PM Modi is scheduled to meet Lankan President Mahinda Rajapaksa, Bangladesh Prime Minister Sheikh Hasina and Nepal's premier Sushil Koirala.
Asked about the recent meetings Pakistan High Commissioner Abdul Basit had with National Security Advisor Ajit Doval and Foreign Secretary Sujatha Singh, foreign ministry spokesperson Syed Akbaruddin said in Delhi that these were "courtesy" meetings sought by the Pakistani envoy.
"Process should not be mixed with the content," he said, to questions on whether these meetings signaled a possible meeting between the two Prime Ministers in New York.