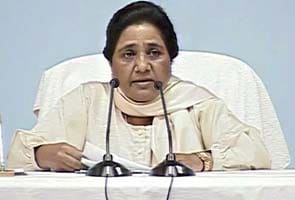 New Delhi:
The Election Commission on Tuesday said there was "no malafide intention" in the checking to which BSP leader Mayawati was subjected to during campaigning in poll-bound Karnataka.
Mayawati, while campaigning in Karnataka's Gulbarga district on April 27, was stopped for checking at the airport and a total of Rs 1 lakh found in her possession. She had objected to the act and alleged "bias" against her.
Replying to BSP leader Satish Chandra Misra's complaint to the Chief Election Commissioner alleging "harassment and humiliation" at the hands of the poll staff in Karnataka, EC said its officials were "only doing their duty"
EC said as per Standard Operating Procedure (SOP), issued by Bureau of Civil Aviation, Security, all passengers excepting those who are specified in the exempted category (which includes Congress President Sonia Gandhi in the list of 31 exempted persons), shall be subject to frisking and checking of baggage even at remote/uncontrolled airports.
The Commission said the whole act of Mayawati's checking has been videographed and after seeing it, "the Commission found that the officers performed their duty professionally and with utmost courtesy, politeness and impartiality."
"The Commission also noted that Ms Mayawati did not allow the officers to count the money found in her possession, which was snatched by her from the officer of the checking team. It is for this reason that the checking team had to repeat the checking," the EC reply said.
EC, which discussed the issue in its meeting chaired by the CEC V S Sampath and other Election Commissioners and officials, said Mayawati gave the explanation that only Rs 50,000 out of Rs 1,00,000 found in her possession belonged to her and the remaining amount belongs to Misra.
"It is however quite surprising that the money changed hands and was not found in her bag when the checking was repeated after a short drive of the 15 minutes from the helipad," the EC said.
"The Commission has seen with concern that the instruction of not using red beacon lights in vehicles used by campaigners was also violated by you," the poll body said.
The election body said many leaders, including Karnataka Chief Minister Jagadish Shettar and former Chief Ministers B S Yeddyurappa, Dharam Singh and others have also been subjected to similar checking in the state during poll campaigning.
On the CEO's intentions in carrying out the orders, the EC said "the Chief Electoral Officer had no malafide intention as alleged by you and was only doing his duty. The Commission would once again request you to help in the efforts to contain the malaise of misuse of money power by co-operating with the checking teams."