Ranchi:
To most children, festival holidays bring joy and a break from studies. For Santoshi Kumari, it meant starving. The 11-year-old died on September 28 at her village in Jharkhand, months after the administration allegedly stopped giving her family subsidized food. A report by district officials says the cause of death is malaria, but her family claims she died crying, "bhaat, bhaat (rice)."

Chief Minister Raghubar Das has ordered an investigation and demanded a report within 24 hours on whether Santoshi's family was denied food for months and their ration card cancelled because it had not been linked to their Aadhaar unique ID number. "Such an unfortunate incident should not be repeated in my Jharkhand, every officer must make sure," he said amid spiraling outrage over the tragedy.

Santoshi's family held a ration card which entitles India's poorest to cheaper rice, wheat and sugar under government schemes. A non-profit, the Right to Food Campaign and NREGA Watch, alleges that a local dealer cancelled the family's food ration after a state government letter in March gave a three-week deadline for linking every ration card with Aadhaar. "My daughter died begging for rice...For four or five days, no one in the family had eaten," said Santoshi's mother Koyli Devi, who is being treated in hospital.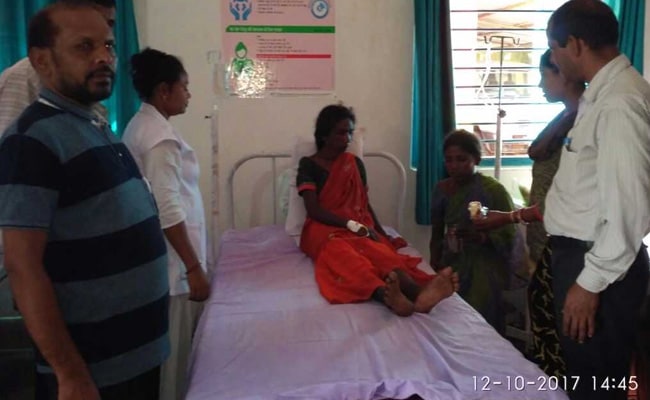 "She (Santoshi) would get food in the school, but because of Durga Puja holidays there was no food in the school."
Of some 700 homes in and around the village Karimati, 10 families - including that of Santoshi - were stripped of their ration card by a local officer.
Two days after Santoshi's death, reports brought activist Tara Mani Sah to the village. "When I learnt that a family is not getting food, I went there on September 30. I saw that the family neither had food nor a place to live."
Activists stress that cancelling a family's ration benefits is a violation of several Supreme Court orders since 2013, which say that an Aadhaar number cannot be made compulsory for food benefits to poor families.
Jharkhand's minister in charge of Food and Civil Supply, Saryu Rai, appeared to blame his own government as he said his orders were ignored even though he is the minister in charge. He accused the state's top official of issuing an order in complete disregard to his instructions not to cancel any ration card. "Ration cards of people with no Aadhaar card cannot be canceled. If someone has done this, then it is wrong," he said.
Watch NDTV's show India Matters, aired earlier this year, that highlighted a serious problem in the country's public distribution system.