Highlights
Nitish Kumar introduces new rules for reservation in Bihar
Affirmative action policies apply for government departments
Quotas to apply if departments use third party to add manpower
Bihar:
After a whiplash of criticism, Bihar Chief Minister Nitish Kumar today amended an earlier decision that made it necessary for any company entering a contract with his government to put aside half of the jobs created as part of the deal for backward castes.
"If you're using government money and giving employment, then you have to follow the Reservation Act of the state," the Chief Minister said today. "Although I am opposed to outsourcing, and the department should hire directly, we have made rules that if we are employing someone through outsourcing, then reservation policies should be followed."
Last week, his cabinet said any government department looking to farm out work to a private company would have to follow a 50 per cent
reservation policy
. But the Chief Minister today clarified that affirmative action policies would apply only if people are being recruited for the government departments - so a contract for IT services would be exempt, for example.
But if manpower is being directly used by the government department, the new rules will apply - like if contract workers are hired. As an example, the Chief Minister said that when the Bihar police in 2006 formed a special auxiliary force of retired soldiers, reservation policies were followed.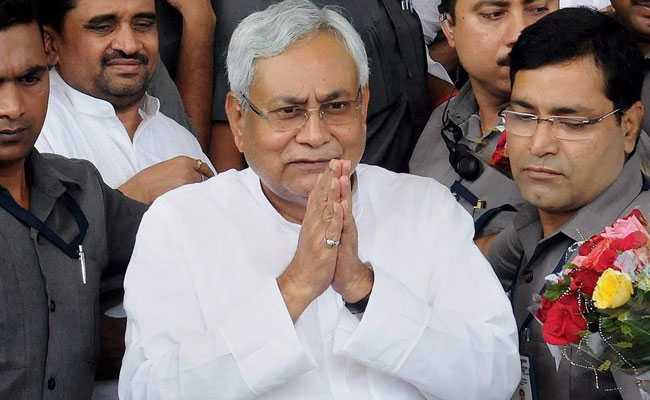 His announcement last week incited negative feedback from the private sector and some senior BJP leaders who said upper caste workers would be deprived of jobs if a flat 50 per cent reservation policy is forced in private firms. Last year, the National Commission for Backward Classes, formed on the Supreme Court's request many years ago to examine which castes should benefit from affirmative action, recommended 27 percent reservation in private firms. The government has not acted on that suggestion.
Mr Kumar today said that it's imperative for the centre to initiate a debate on introducing 50 per cent reservation in the private sector.
He also said he supports the call of Patidars or the powerful Patel caste in Gujarat- which forms about 14 percent of the state's population- to get a share of government jobs and seats in educational institutions. The Patels' demand has led to the community turning on the ruling BJP in Gujarat after supporting it for decades.
The Chief Minister has taken the lead in reserving half of all jobs in the judiciary
in Bihar for backward classes. Similarly, half of all places in local municipal bodies are reserved for women.
The support of backward castes is crucial for Mr Kumar, who in July aborted his alliance with the Congress and Lalu Yadav to form a new government with the BJP.