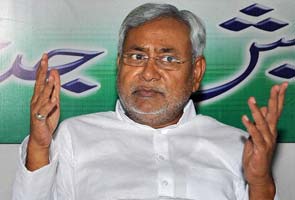 New Delhi:
Bihar Chief Minister Nitish Kumar wants the BJP to announce its candidate for Prime Minister soon. Mr Kumar's JD(U) is a member of the NDA, the coalition that the BJP leads. The next elections are scheduled for 2014, and many in the BJP have said it's too early to announce who will front the NDA's campaign. Mr Kumar's suggestion today is an attempt to pressure his ally to declare its intent.
"Whatever alliance goes into an election, it should declare the leader before the election. This benefits everyone because people can test the candidate, there can be debate and dialogue about the candidate. I have seen this in past elections, in states. In the past, NDA has had this practice- Atal ji's name was declared before the elections," Nitish Kumar said today.
Mr Kumar has said that he does not want to run for Prime Minister. He has also said that he does not want the NDA to pick a candidate who is not secular - a naked swipe at Gujarat Chief Minister Narendra Modi, one of the BJP's most popular leaders. Mr Kumar has made his conditions clear - if Mr Modi is selected as the face of the NDA for 2014, his party will quit the coalition.
In Bihar, the BJP partners with Mr Kumar to govern the state. Recently, BJP President Nitin Gadkari said that he has assured Mr Kumar that no decision has been taken yet on Mr Modi's status for the general elections.
The tenuous relationship was aggravated by BJP leader LK Advani, who blogged a few days ago to say that "a non-BJP, non-Congress Prime Minister supported by the two parties is feasible." Mr Kumar's party said he fits the bill, suggesting that despite its leader's demurrals, his party may want to pitch him for Prime Minister.