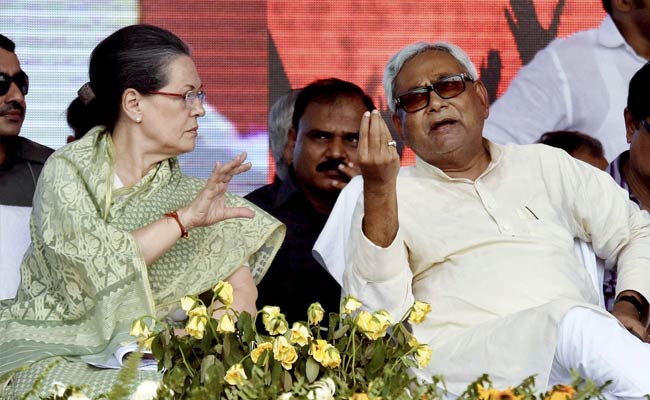 Highlights
Nitish Kumar meets Sonia Gandhi for a strategy session
'Instead of reacting to PM Modi, we should set own agenda': He tells her
They also discuss a joint candidate for the post of President
New Delhi:
A month after the Congress's drubbing in the latest round of assembly elections, Bihar chief minister Nitish Kumar met its chief Sonia Gandhi for a strategy session today. The meeting with Mrs Gandhi, who recently returned from trip to US for medical treatment, took place at her home in Delhi. Mr Kumar's party described it as a long-overdue courtesy visit. But sources said the chief of the Janata Dal United, Congress's senior partner in the three-party Grand Alliance that kept the BJP at bay in Bihar, has been scouting for allies for a nationwide 'Mahagathbandhan" to beat them in the 2019 general elections.
The Congress had fallen back on its staple "introspection" after the drubbing by the BJP. Sources said Mr Kumar's suggestion to Mrs Gandhi was on the lines of the advice he had given to her son and deputy Rahul Gandhi. "Instead of reacting to Narendra Modi, we should be setting our own agenda," he was quoted as telling her.
Ahead of the latest round of assembly elections, Mrs Gandhi had been away from the public eye, Rahul Gandhi was on the drivers' seat. She had not even campaigned in the family turf of Amethi and Raebareli -- where the party had managed to win only two of the 10 seats. Her last public appearance was during a rally in Varanasi, when she was taken ill mid-way and had to be brought back to Delhi. Her medical condition has not been revealed by the party.
Today, the two leaders also discussed a joint candidate for the post of the President - Pranab Mukherjee's tenure ends in July. "Sonia Gandhi being the leader of the largest opposition party should take the lead," said JD(U) leader KC Tyagi. Mr Kumar, he said, has already taken up the matter with leaders of the Left parties and received a good response.
There has been speculation that Mr Kumar was considering an alliance with the BJP, fueled by his invitation to BJP leaders for Makar Sankranti feast, his party's deteriorating relation with Lalu Yadav's RJD and the BJP's sweeping victory in Uttar Pradesh. But Congress sources said that Mr Kumar was organising Mahatma Gandhi's Champaran Centenary visit in a grand scale was enough to dispel the impression.