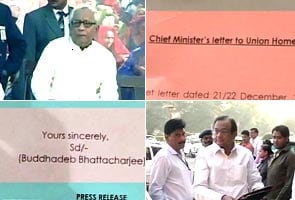 New Delhi:
"I cannot accept the deliberate leakage of letters to the press...I am unable to accept your attitude towards Left Front workers....you have chosen not to mention the Trinamool-Maoist links in your letters." Three angry lines from the latest letter sent by the West Bengal Chief Minister to Home Minister P Chidambaram.
And with that note, it's clear that there will be no new year's truce in the war that's being fought publicly and bitterly between the Home Minister and Buddhadeb Bhattacharya.
Mr Bhattacharya's new letter was written within an hour of the Home Ministry releasing to the press the correspondence so far between Mr Chidambaram and him. At least count, that was three letters sent by the Home Minister, and two replies from the Chief Minister.
First, P Chidambaram wrote to Chief Minister Buddhadeb Bhattacharya on December 21 and virtually ordered him to disband the armed cadres of his party, the CPI(M).
Mr Bhattacharya sent an angry response seven days later, in which he accused the Home Minister of not being impartial in his assessment of the West Bengal administration. (
Read the letter
) He also objected to Mr Chidambaram using the term "harmad vahini" for the armed cadres of the CPI (M). Mr Bhattacharya said this was a derogatory term used by the Left's political rival, Mamata Banerjee, and that the Home Minister's reference to it suggested that Mr Chidambaram was pandering to Ms Banerjee's anti-Left agenda.
Then came two more letters from Mr Chidambaram yesterday, addressing the chief Minister's concerns and inviting him to talks in Delhi. Which was followed by a note from Mr Bhattacharya where he says he is unable to travel to Delhi during the period suggested by the Home Minister (January 3 to January 7). The Chief Minister does offer to head to Delhi "as early as possible." (
Read Buddhadeb's note to Chidambaram
)
In the two letters he sent yesterday, Mr Chidambaram has reiterated his concern about security in West Bengal. He refers to the number of workers from different political parties killed in political violence and states, "Taken together, the numbers are alarming and that is why I said that they point to a virtual collapse of law and order in different parts of West Bengal." (
Read Chidambaram's letter
)
In another paragraph, he asks, "The question that remains unanswered in your letter is if armed cadres continue to take upon themselves the duties of maintaining law and order, what is the role of the security forces that have been deployed... at the request of the state government?"
Mr Chidambaram also repeats his earlier instruction. "I wish to emphasize that it is important that the armed cadres are disbanded and demobilized immediately."
In his second note on December 30, Mr Chidambaram has explained his usage of the term "harmad vahini." The Home Minister clarifies, "As regards the use of the word 'harmad', you will kindly appreciate that this word has been used extensively in the media and by a number of political parties...I do not think that the word per se is offensive, but should you suggest another word or phrase to describe the armed cadres referred to in my letter, I shall be happy to use that word or phrase." (
Read Chidambaram's second letter
)
Mamata Banerjee, who is a crucial part of the UPA alliance at the centre, has been targeting the Left aggressively for allegedly allowing its armed cadres to kill workers of her Trinamool Congress. With elections four months away in West Bengal, parties are launching campaigns with gusto and a glut of accusations against each other. Mr Bhattacharya, in his letter to Mr Chidambaram, accused Ms Banerjee of flaunting her party's nexus with the Naxals in Bengal.