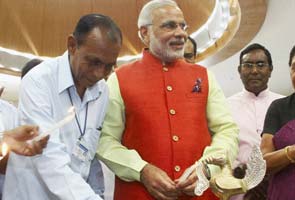 Gandhinagar:
Gujarat Chief Minister Narendra Modi moved into his new office in Gandhinagar today, and no, it is not bullet-proof, his staff has emphasised to quash what they describe as "wild speculation."
The modest looking, four-storey building has two blocks, and has been built for Rs 150 crore in about a year's time. The blocks are named Swarnim Sankul 1 and 2. Swarnim Sankul-1 consists of offices for ministers and secretaries. It has a room for cabinet meetings, a data centre and a work space for 1,000 employees.
The Chief Minister sat in his third-floor office of Swarnim Sankul 1 today going through files. The rest of his ministers have offices on the second floor of the same block.
On the ground floor of the block, the Chief Minister chaired his first Cabinet meeting. The ground floor also has a conference room with video conferencing facilities.
Mr Modi, who was re-elected for a fourth consecutive term last year, was so confident of his victory that he performed the
bhoomi pujan
or foundation-laying ceremony for the office before the Assembly elections were held in December last year. He won handsomely.
Departmental heads will sit in the the second block of the complex. The complex can seat 1000 employees.