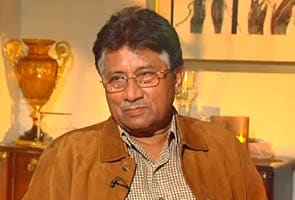 Islamabad:
Former Pakistan President Pervez Musharraf has hit out at Indian Intelligence agencies saying that the RAW or Research and Analysis Wing is inciting violence in the Balochistan province of South-West Pakistan and is actively trying to foster anti-Pakistan sentiments in Afghanistan.
Musharraf, currently living in self-exile in Britain, repeated his claims that the involvement of India and Afghanistan in Balochistan is creating unrest in the Pakistani province.
The Pakistani government has "hard evidence" of the involvement of the two countries and this proof has been "given to everyone", including the US, Musharraf claimed in an interview with Express 24/7 news channel.
"Even (Afghan) President (Hamid) Karzai has been given (the evidence)," he said.
In response to a pointed question on whether the dossier of evidence had been shared with India, Musharraf said: "Not given to the Indian government. We had it, this is our own (information)."
He refused to comment on the contents of the dossier. Pakistan's Interior Minister Rehman Malik has levelled similar allegations against India in the past but has never backed up his claims with proof.
Musharraf said the military operation carried out against Baloch nationalist leader Nawab Akbar Bugti during his regime was justified as Bugti "had been creating trouble in Balochistan".
The operation resulted in the death of Bugti and several of his aides.
"There is a person who is firing 500 rockets on Sui. There is a person who has occupied the hill features and is firing rockets and weapons...on the Frontier Corps. They are blowing up the gas pipeline, the electric pylon, the railway line," he said, referring to alleged actions of Bugtis men.
Musharraf alleged that Bugti's grandson, Bramdagh Bugti, is currently living in Kabul and is received by agents of Indian intelligence agency, the Research and Analysis Wing, when he goes to India.
"I know that they finance him, they give him weapons to create trouble and stab us in the back in Balochistan," he claimed. (With PTI inputs)