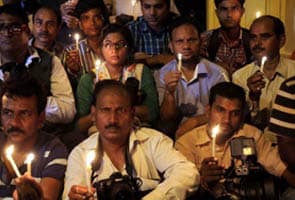 Mumbai:
Twice after she had been cornered by three men, the young photojournalist heard her cell phone ring. It was her mother who was told by the young woman that she is alright.
Her male colleague lay about 100 feet away, tied up with a belt at the deserted textile mill they had arrived to shoot at sunset.
The men who would go on to gang-rape the 22-year-old held a broken bottle above her head. They warned her not to shout for help. (
Read
)
When her cellphone rang for the second time, they ordered her to answer it without giving away a hint of the nightmare that had begun. She told her mother that she is on an assignment and is doing fine.
For nearly 30 minutes, she was assaulted, the rough-edged bottle repeatedly waved in her face.
When the men were done, they walked the couple to a nearby railway station, an attempt to ensure they did not report directly to a police station, according to investigators.
Later, the brave survivor and her colleague would piece together the constituents of a savage narrative, him by leading the police to the scene of the crime, her through a statement made in hospital shortly after they checked in.
When the couple arrived at Shakti Mill in South Mumbai, two men walked up to them. An hour later, the journalists decided their assignment was complete. As they were heading out, the two men returned along with a third. They accused the couple of being involved in a murder that had taken place at the mill. The woman was separated from her colleague during the conversation. After he was tied up, the three men phoned another two to join them, the police said.
The couple unsuccessfully offered the men their iPhone and expensive camera to release them.
The wave of assaults began. All the five suspects have been arrested. Of them, the police describes Kasim Bengali as the "most depraved" in the gang. They say he was the most violent and raped the woman twice.
Her colleague called their boss while looking for a cab at the train station and told him about the horrific assault. They had to walk about 800 metres before they found a cab to Jaslok Hospital, where the woman is now reported to be recovering from internal and external injuries.
"Rape is not the end of life," the brave survivor is said to have told a member of the National Commission for Women who visited her in hospital today, according to the Press Trust of India. "I want to report soon to work," she said.