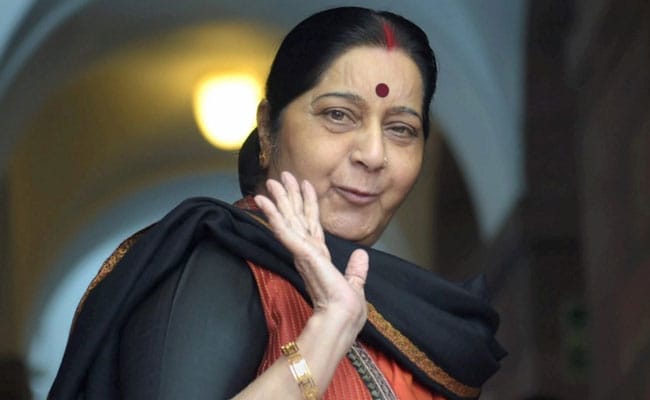 New Delhi:
External Affairs Minister Sushma Swaraj left on a five-day visit to South Africa today where she will meet top leadership of the country and attend meetings of BRICS and IBSA -- the two major groups where India has been playing a major role.
Ms Swaraj will also attend events marking the 125th anniversary of the historic incident where a young Mahatma Gandhi was thrown out of a train compartment in Pietermaritzburg railway station, the Ministry of External Affairs said.
The 1893 incident proved to be a turning point in Mahatma Gandhi's fight against racial discrimination in South Africa.
During her visit to the African nation, Ms Swaraj will participate in the BRICS (Brazil, Russia, India, China and South Africa) Foreign Ministers' meeting on June 4 which is expected to lay the foundation for the annual summit of the group in Johannesburg next month.
She will also chair a meeting of Foreign Ministers of IBSA (India, Brazil, South Africa), another bloc working to deepen coordination among the three countries on major global issues.
On June 6, Ms Swaraj will visit the Phoenix settlement where Mahatma Gandhi had developed his philosophy of non-violence.
Ministry of External affairs has said the two-day commemoration activities will also include release of joint commemorative stamps on Mr Oliver Tambo, who was a South African anti-apartheid activist and revolutionary leader and Mr Deen Dayal Upadhayaa and a Youth Summit where 20 from African youth and five from India will speak on the relevance of Mahatma Gandhi's message of peace to today's generation.
"The year 2018 is an important year for India-South Africa relations as it marks 25 years of the establishment of diplomatic relations, the 125th anniversary of the Pietermaritzburg railway station incident and the 100th birth centenary of South African iconic leader, Nelson Mandela," the Ministry of External Affairs said.
It said India and South Africa enjoy close and friendly relations which are rooted in history and the values of south-south cooperation.
"The visit of External Affairs Minister will further strengthen our close and long standing ties with South Africa," the statement said.