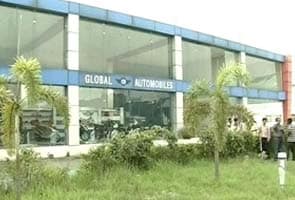 Kolkata:
A two-hour drive from Kolkata, very near Singur, where the Tata Nano factory was shutdown, a large factory announces itself as Global Automobiles.
It is owned by Bengal's Saradha Group and has been offered as evidence by its recently-arrested chairman of one of many scams that left him broke. Last week,
Sudipta Sen
, while on the run, sent a letter to the CBI diagramming what he describes as his "overall business fall down." His chit fund folded a few days ago, parting small investors from their savings. (
Read: How Saradha duped its investors
)
Mr Sen says he was tricked into paying too much for the factory, and realized too late that he had inherited large loans, the result of collusion between bank executives and the factory's original owners.
Mr Sen's note to the CBI says that he wants to commit suicide.
At the motorcycle factory, 150 full-time employees are on a relay hunger strike. They were last paid in January. The management has not been at work for over two weeks.
News of the defunct chit fund has arrived at the factory. "We want the chief minister to intervene," says a mechanic.
"This factory should be given to some other company. It's a question of the life and livelihood of so many workers," he adds.
Occasionally, workers say, the management would bring around potential investors. They were told to look busy, ensure conveyor belts were whirring, to make it seem like motorcycles were being assembled. In reality, they say, not a single two-wheeler has been produced here since the Saradha take-over.
Lakhinder Ram, a worker, says, "Bus-loads of people used to come here. 30 minutes before they arrived, we were asked to stand around the factory and pretend we were working. All these people used to look at us and be reassured things were in order."
The pretence was allegedly just one of many deviant schemes that Saradha used to market itself as a hotbed of opportunity that would pay off handsomely.
Workers are investing in the hope that Global Automobiles will be taken over by another company. But the factory is now in the hands of a clutch of banks which have seized the factory to compensate for unpaid start-up loans.
Like so many other small families in towns and villages that have been ruined by Saradha, it is daily-wage workers who will pay here for the corruption and deceit that the company traded in, impossible without political patronage or support, some allege.