New Delhi:
Home Minister Rajnath Singh said today that there will be no discrimination or needless harassment in finalizing new citizen's list that excludes 40 lakh people from Assam.
"The process fair and transparent. We are doing everything according to the guidelines laid down by the Supreme Court. Every step is being followed," Mr Singh said in a statement in the Rajya Sabha.
"I assure everyone that no Indian citizen will be left out. There is absolutely no need to worry." He assured that there would be no coercive action against those who had been left out of the National Register of Citizens for Assam.
The Lok Sabha is expected to discuss The National Sports University Bill, 2018, moved by Union Minister Rajyavardhan Rathore and The National Medical Commission Bill be tabled by Union Minister JP Nadda today.
Here are the highlights of day-12 of monsoon session in parliament
Rajnath Singh On Assam Citizens' List: No Indian Will Be Left Out
Amid a fierce debate on the Assam draft citizens' list that seeks to weed of illegal immigrants in the north-eastern state, Home Minister Rajnath Singh today said "no Indian citizen will be left out of the list". The opposition has criticised the government over what it claimed was a political move to cut out Muslim voters in ahead of key state elections and the general election next year."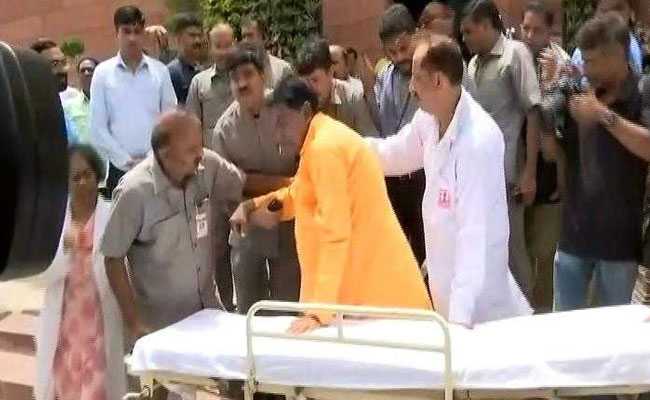 TMC MP Idrish Ali fainted inside parliament. He was later carried in an ambulance to hospital for health checkup.
Responding to Home Minister's clarifications over the NRC issue, TMC leader Derek O' Brien said that communal disharmony is being spread following the detention of TMC leaders in Silchar airport in Assam.
Uproar in Lok Sabha by Trinamool Congress MPs after TMC delegation was detained at Silchar airport yesterday #NRCAssam

- ANI (@ANI) August 3, 2018
Rajnath Singh counters opposition on Citizens' bill
I want to make it clear that there will be no coercive action against anyone whose name is not there on the list... This is not a final list, it is just a draft.
There is an effort to disrupt harmony. An atmosphere of fear is being created. This must not be done. I urge everyone's support in this process. Let us all work together so that the process is done smoothly.
Please maintain peace, harmony and public order. To aid this, we have provided the Assam govt with all the required security forces.