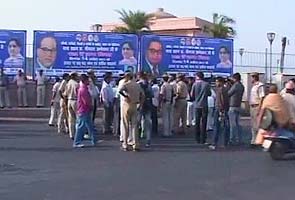 Lucknow:
The Lucknow Municipal Corporation has pulled down hoardings and posters put up by Bahujan Samaj Party (BSP) in the city ahead of Ambedkar Jayanti tomorrow. Mayawati's party had put up these posters on Lohia Path (road) leading up to the Ambedkar memorial to celebrate the occasion.
The civic body says the BSP did not have permission to put up these posters. The BSP, however, says they had taken the permission but the posters were removed at the behest of the ruling Samajwadi Party. The permission was later withdrawn, say BSP sources.
After the BSP protested, the municipal corporation also removed posters of Chief Minister Akhilesh Yadav.
The BSP and the Samajwadi Party are traditional rivals in Uttar Pradesh. In the Assembly elections last year, Mulayam Singh's Samajwadi Party ousted Mayawati from power.
UP handed the Samajwadi Party a handsome mandate, primarily on the promise that the party, largely associated with hooliganism, had changed its spots.
But Mayawati says the Samajwadi Party government has "failed the state at every level".