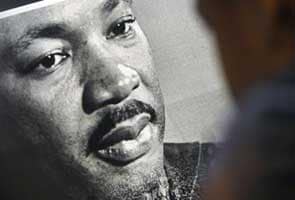 Atlanta:
A moment of his trip to India initially left American civil rights activist Martin Luther King Jr "shocked" but it probably later brought him face-to-face with the then dark reality of black people being "untouchable" in US.
Yes, it is common knowledge that King, one of the greatest icons of universal peace, was a follower of Mahatma Gandhi, but a trip to South India in 1959, where he was introduced as an American untouchable, also influenced his thinking.
Speaking at the historic Ebenezer Baptist Church here on occasion of the Martin Luther King Day service, Raj Razdan, Executive Director of the Senior Citizen Program of Georgia, brought out new facets of King's learning ties with India.
She said King, who was assassinated in 1964, once described his visit to India to a congregation here in the church.
"Dr King told the members of the church and I quote 'I remember when Mrs King and I were in India we journeyed down one afternoon to the southernmost part of India to the city of Trivandrum in Kerala. That afternoon I was to speak at a high school. This particular school was attended by and large by students who were children of former untouchables.
"The principal of the school introduced me and then he came to the conclusion of his introduction. He said, 'young people, I would like to present to you a fellow untouchable from the United States of America' and for a moment I was shocked and even peeved that I would be referred to as an untouchable'," Razdan quoted King as saying years back.
King said he then started to think "about the fact that 20 million of my brothers and sisters were still smothering in an airtight cage of poverty in an affluent society. And as I thought about this, I finally said to myself, yes, I am an untouchable and every Negro in the United States is an untouchable".
Razdan brought forward many commonalities between King and Gandhi, who has been described by the American civil activist as his "social and political mentor".
"It is little wonder that one of the books about the life of Dr King was titled 'King, The American Mahatma'," Razdan said.
The Ebenezer Baptist Church is where King honed his oratory skills and found his spiritual fervor.