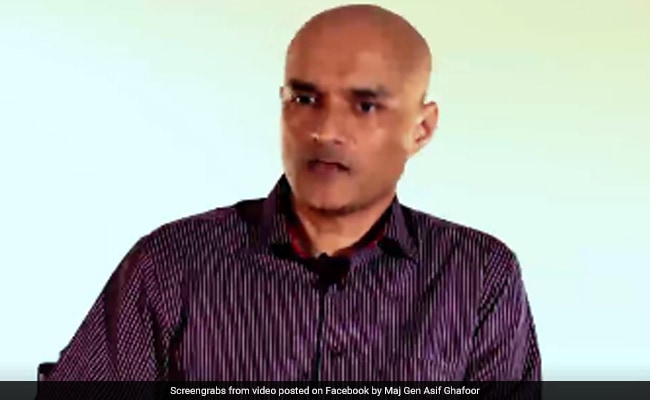 NEW DELHI:
Firmly rejecting a second "video confession" released by Pakistan military
as proof of Indian national Kulbhushan Jadhav's guilt, India on Thursday told Islamabad to desist from attempting to influence proceedings before the world court through "false propaganda".
"The developments bring out once again the lack of transparency and farcical nature of proceedings against Jadhav on concocted charges, continued violation of his legal and consular rights and an attempt to introduce prejudice in the proceedings in the ICJ," Gopal Baglay, the Foreign Ministry spokesperson said in a statement issued hours after Pakistan military released what it claimed was Mr Jadhav's
video confession
recorded in April 2017.
"Manufactured facts cannot alter the reality, and do not detract from the fact that Pakistan is in violation of its international obligation to India and Mr Jadhav," he said.
The world court, formally known as the International Court of Justice (ICJ), had ordered Pakistan to hold off Mr Jadhav's execution after New Delhi complained that Islamabad violated a treaty guaranteeing diplomatic assistance to foreigners accused of crimes.
India also called the much-publicised confession extracted by Pakistani authorities "as an attempt to influence" the world court's proceedings through false propaganda. This week, the court had indicated
it would begin hearing the case early next year
. India is, Mr Baglay said, "confident that justice will be done without being affected in any manner by these unwarranted and misleading steps taken by Pakistan".
Mr Jadhav, a former navy officer, was sentenced to death last month after being held guilty by a Pakistani military court of spying and subversive activities. The 47-year-old was arrested last March by Pakistan. India says Mr Jadhav was kidnapped in Iran, where he was running a business, and framed based on a confession forced out of him.
A military court in Pakistan had sentenced Mr Jadhav to death for espionage after what New Delhi insists was a farcical trial.
India's stinging statement late on Thursday evening came hours after the Pakistani army claimed that Kulbhushan Jadhav had filed a mercy petition to the Chief of Army Staff Qamar Javed Bajwa. In this petition, Pakistan claimed that Mr Jadhav had confessed to bombings at the behest of Indian intelligence agency and expressed remorse at his actions.
But the Pakistan army statement, for the first time, also acknowledged that Mr Jadhav had filed an appeal with the military appellate authority against the death sentence. And that the appeal had been dismissed.
India had told the world court last month that the appeals procedure cited by Islamabad was "worthless" because army officers could not be expected to rule against the verdict since it had already been confirmed by Army Chief General Qamar Javed Bajwa. "An appeal before a Tribunal presided over by him (Army Chief) or officers' junior to him
would be an appeal from Caesar to Caesar
," India's application to the United Nations top legal body had said.
Islamabad had so far only acknowledged that it had received a petition
from Mr Jadhav's mother but refused to grant her a visa to travel to Islamabad despite Foreign Minister Sushma Swaraj's intervention.
India highlighted how Pakistan had not disclosed the existence of this now-rejected petition to a military court to the world court too.
"Pakistan has never disclosed even to the ICJ Mr Jadhav's purported appeal to a military tribunal in Pakistan and has effectively prevented his parents from pursuing the appeal and the petition filed by Mr Jadhav's mother," Mr Baglay said, questioning the authenticity of the much-publicised mercy petition to the army chief too.
"The details and circumstances of the alleged mercy petition by Mr Jadhav are not clear and even the fact of its existence is doubtful, shrouded as the proceedings against Mr Jadhav have been in opacity," he said.