Highlights
Vijay Shankar Singh has been missing since the student's killing
Police said on record that he has links to a Sultanpur politician
Allahabad University students protested on the streets on Monday
Lucknow:
Three days after a
26-year-old man was beaten to death
at a restaurant in Uttar Pradesh's Allahabad, a horrific assault caught on mobile phone camera by a witness, the main accused is yet to be arrested. Vijay Shankar Singh, an Indian Railways employee missing since the killing, is linked to a politician and strongman, according to the police.
Chief Minister Adityanath has announced Rs 20 lakh compensation for the family of Dilip Saroj, the law student who died after being beaten with a hockey stick, an iron road and bricks on Friday night. The mobile phone video taken by a passerby outside the restaurant has captured a part of the assault, after which Dilip is seen lying on the road, unconscious.
Vijay Shankar Singh, seen in a red jacket, keeps hitting the lifeless Dilip.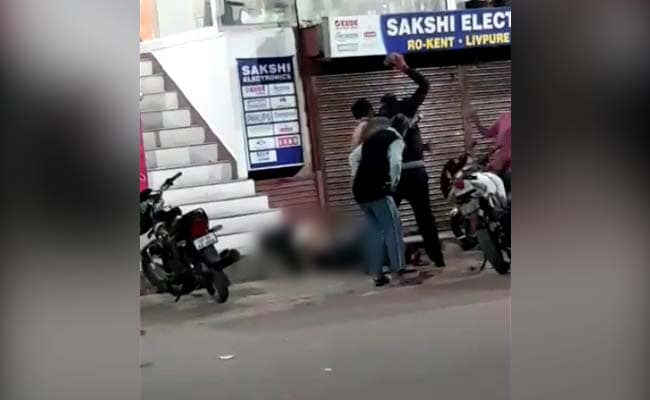 What led to the assault was a minor argument that started when Vijay Shankar Singh, entering the Kalika restaurant with his friends, brushed against Dilip, who was sitting on the stairs outside.
In footage from security cameras inside the restaurant, Dilip's group charges at Singh and a free-for-all erupts. A waiter who tried to stop the fight is seen hitting Dilip with a rod; the police say that was the blow that led to his death. The waiter has been arrested.
The Allahabad Police has said on record that Vijay Shankar Singh has links to a politician and strongman from the Sultanpur district, Chandra Bhadra Singh or Sonu Singh. Vijay Shankar Singh is also from Sultanpur.
"We have many photos that link the main accused to Sonu Singh. We are sending a team to Sultanpur and we will question the accused's family members, and if required, we will question (Sonu Singh) too. We have many leads on the main accused and we hope to arrest him soon," said senior police officer Akash Kulhary.
Sonu Singh, according to the police, has a criminal record that includes murder and rioting.
Sonu Singh is a former lawmaker of Mayawati's BSP who joined the BJP in 2013. He quit the party four years later, upset over being denied a ticket for the assembly polls last year. He joined Ajit Singh's Rashtriya Lok Dal.
A
large number of students from the Allahabad University protested
on the streets yesterday, accusing the police of delaying the investigation and not going after the main accused.

Protesters burnt a bus, hurled stones and also shouted slogans outside the offices of top police officers.

After the violent protests, the Chief Minister urged the Allahabad police to act faster in the case.