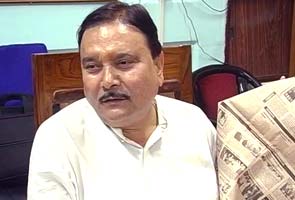 Kolkata:
Even as the Trinamool Congress tests the limit to which it can push its senior ally in the government over the reforms measures announced last week, West Bengal's transport minister has let loose another volley against the Centre - and a very strong one.
The transport minister, Madan Mitra, called an advertisement by the petroleum ministry a "buffoon" and said that ministers in at the Centre were under "psychiatric treatment" and if they were not, then they needed to be.
The ad, printed in major dailies across the country today, suggests states can cut tax on diesel if they are unhappy with the Rs 5 hike in prices announced last Friday.
"I don't know if the ministers of (the) government of India are under psychiatric treatment or not but they need it. So giving this ad in 50 papers...spending crores of rupees, they could have directly written to the state government. Why they didn't write? Because they cannot write. Before telling all this nuisance and these advices, these grandfather-like advices, they should withdraw whatever blunder they have done. Let them withdraw (the hike in diesel prices). Charity begins at home... This is just a joke and joke not for the day but for the millennium," Mr Mitra said.
The Trinamool Congress, led by Mamata Banerjee, has put the government on notice by demanding a rollback on recent reform decisions, like increasing the price of diesel, restricting subsidised cooking gas cylinders and allowing foreign investment in retail. Ms Banerjee warned the government that she will have to take a tough decision at a party meeting on Tuesday about her participation in government.
(Read: Mamata's party talks tough, Prime Minister may reach out today)
Some states like Delhi and Kerala have earlier cut taxes to reduce the price of petrol, especially when it was hiked by Rs 7 earlier this year.