Hyderabad:
Highlights
KCR said he was ready to take initiative for an alternate political front
Mamata Banerjee reportedly told KCR she was willing to work with him
Mr Rao claimed his initiative was not against the BJP or PM Modi
Telangana Chief Minister K Chandrasekhar Rao's call for a national political formation without the BJP and the Congress has got support from his West Bengal counterpart Mamata Banerjee and a few others, including Hyderabad lawmaker Asaduddin Owaisi.
The Trinamool Congress chief reportedly told Mr Rao over the telephone that she was willing to work with him to bring in a qualitative change in the country's politics.
On Saturday, the Telangana Rashtra Samiti (TRS) president had said he was ready to play a role in national politics and take a leadership initiative for an alternate political front.
"People are looking for change. Can we expect something new to happen if Congress comes to power after BJP? It can be a third front or any front.. Discussions are going on. There is no secret about it," Mr Rao said.
Enthused by the idea that KCR could be PM, many groups of people, including farmers and various community leaders came to meet him.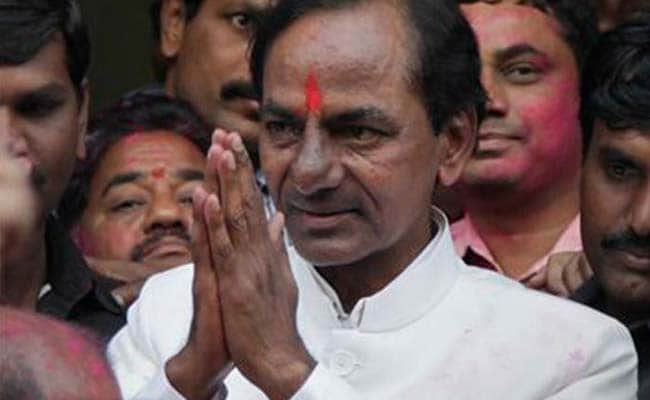 '' I am asking the Centre to increase support price for crops by Rs 500, so farmers distress can be addressed. Will they do it? They won't. Think Telangana should show the way. Our schemes for farmers is progressive. We can give direction to the country," Mr Rao said.
Calling Prime Minister Narendra Modi a "friend", Mr Rao claimed his initiative was not against the BJP or PM Modi. It is against the slow progress of the country, the TRS chief said.
Mr Rao is looking at a scenario where neither the BJP-led NDA nor the UPA are able to get a majority in the 2019 general elections and regional parties could come together to emerge as the largest political formation.
Calling the statement of Mr Rao, or KCR as he is popularly known, "encouraging" , Hyderabad lawmaker Asaduddin Owaisi said, "I feel KCR can become a pivot against the Congress and the BJP".
Mr Rao's remarks come at a time when NDA alliance partner Telugu Desam Party (TDP) is miffed with the BJP over budgetary allocations for Andhra Pradesh. Last month, the party decided to continue with the alliance but said it would step up pressure against the Centre.
KCR was a part of NT Rama Rao's Telugu Desam Party when it was part of the National Front government in 1989 as well as with Chandrababu Naidu's Telugu Desam Party when he became the United Front convenor. Experts say he is hoping to brood in such a scenario.
Most parties are rattled by the BJP's ability to win elections.
The Tripura result where the BJP went from 1.5 per cent to over 42 per cent would have rattled even Mamata Banerjee. They would be looking at some formation that can arrest the growth of the BJP.
Political observers say , unlike Ms Banerjee or Mr Naidu, who need to have a presence in their state to ensure they don't lose their political hold, KCR has his son, nephew and others in the succession line who could manage the state even without him being around for micromanagement. That leaves him with more bandwidth to dabble in national politics.
Get the latest election news, live updates and election schedule for Lok Sabha Elections 2019 on ndtv.com/elections. Like us on Facebook or follow us on Twitter and Instagram for updates from each of the 543 parliamentary seats for the 2019 Indian general elections.