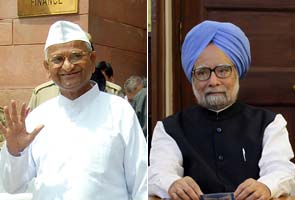 New Delhi:
Prime Minister Manmohan Singh has written back to social activist Anna Hazare asking him to approach the statutory authorities with his grievances. Yesterday, miffed over the Delhi Police putting restrictions on his August 16 fast over Lokpal Bill, Anna had written a letter to the Prime Minister asking for help.
"Can't our PM get us a location to protest peacefully," Mr Hazare had asked Dr Singh in his letter. Mr Hazare also accused the government of "crushing the fundamental rights of people." In the strongly-worded letter, written in Hindi, Mr Hazare charged the government with suppressing those who raised their voice against corruption. "Your government is trying to crush those who raise their voice against corruption. This is happening more often in your government," he said in his letter. "If you can't help us, we will court arrest on August 16," he added. (
Read Anna's full letter
)
Replying to Anna's letter, the Prime Minister said, "Your grievance that the police have given you permission to protest and go on fast at JP Park only for three days needs to be addressed by the statutory authorities who have taken that decision. My office does not in any way get involved in the decision making process." (
Read PM's letter to Anna
)
Earlier on Saturday, Anna Hazare and his team rejected the Delhi Police's conditional permission for his August 16 fast. The 74-year-old Gandhian has said he will begin an indefinite hunger strike from August 16 at Jai Prakash Narain Park in Delhi. "The fast will take place in Jai Prakash Narain Park. We will continue with the protest beyond three days...the government is scared that its corruption will be exposed," Hazare said addressing a press conference in Delhi. He added that the government is "curbing free speech and is creating an Emergency like situation."
Mr Hazare also said that he had to run from pillar to post seeking permission for a venue for his fast. He originally wanted to organise it at the Capital's protest hotspot - Jantar Mantar. But he was denied permission for this venue. The Delhi Police instead said he could hold his fast at Jai Prakash Narain Park. The permission, however, was conditional. Police said only 5000 people would be allowed to gather and they should vacate the venue by August 18. Rejecting these restrictions, Team Anna said on Saturday, "We cannot control the number of people since it is an indefinite fast. Police may arrest us." They said they agree with almost all conditions laid by the Delhi Police for the protest, but would not give an undertaking that the protest will end by the third day and the number of protesters will not go beyond 5,000.
On Friday, Home Minister P Chidambaram had requested Anna Hazare to call off his hunger strike. "Everyone has a right to protest. But the context and circumstance decide whether the protest is legitimate or not. When there was no Lokpal Bill, the protest was justified. But now that there is a Bill in Parliament, and the Standing Committee has asked Anna Hazare to testify, the protest, at this stage, seems to be unjustified,'' Chidambaram said.
On charges of not providing Jantar Mantar (in New Delhi) as a venue for Team Hazare's agitation, Chidambaram said, ''Anna's is not a special case. Jantar Mantar cannot be given for long protests or to one group alone. As there are many other people with causes, the day has to be divided and the group given slots."
Union Telecom Minister Kapil Sibal has also lashed out at Anna Hazare saying "laws can't be made by going on a fast." "As far as we are concerned, the Parliamentary process should be followed. You should go to the Standing Committee. He has been there already once. He should go there again if he wants to go and he should put his point of view. You can't say 'either you accept my bill or I will go on fast.' This is no way," he said.
The Lokpal Bill, which was introduced in the Lok Sabha on August 4, has been sent to the Parliamentary committee for its consideration. But its draft did not include several key suggestions made by Team Anna. Earlier this week, the panel had invited Hazare for the discussion in yet another bid to strike an understanding with civil society activists.
The Lokpal Bill provides for the establishment of the institution of Lokpal, or ombudsman, to fight corruption in public office. Hazare and four of his nominees were initially invited by the government to help draft the new Bill, along with five ministers. The elected and non-elected teams of representatives clashed bitterly, and ultimately produced two dramatically different versions of the Bill. But the government chose to introduce its version of the Bill in Parliament. In this version, senior judges and the PM are exempt. Team Anna has accused the government of "betraying" the nation by delivering a Bill incapable of really taking on politicians or public servants over corruption.