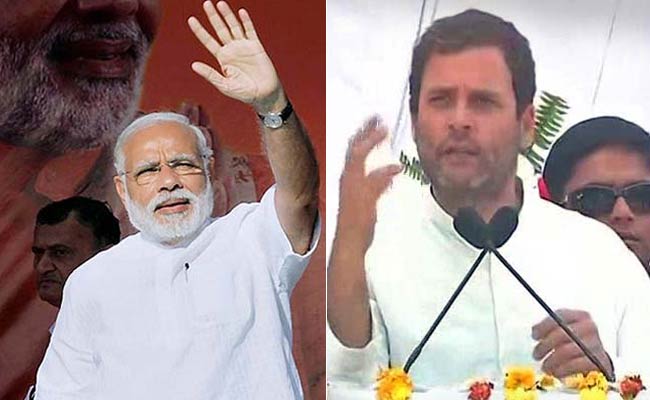 Prime Minister Narendra Modi has filed his nomination for reelection from Varanasi. PM Modi arrivd at the District Magistrate's office after a meeting with NDA leaders. All senior leaders of the BJP, NDA and North East Democratic Alliance, including Shiv Sena chief Uddhav Thackeray and Shiromani Akali Dal leader Parkash Singh Badal, are present for the occasion.
Congress President Rahul Gandhi tweeted that an "engine trouble" on their flight has forced him to delay his programmes for today. "Engine trouble on our flight to Patna today! We've been forced to return to Delhi. Today's meetings in Samastipur (Bihar), Balasore (Orissa) & Sangamner (Maharashta) will run late. Apologies for the inconvenience," he tweeted. The Congress leader was scheduled to address a public meeting in Patna at around 10:30 am. Mr Gandhi will also address rallies in Odisha and Maharashtra.
Meanwhile, senior officials of the Election Commission will meet today to discuss the possibility of holding assembly elections in Jammu and Kashmir. The voting for the parliamentary elections was largely peaceful in the state. Jammu and Kashmir has been under President's Rule since June last year.
Here are the LIVE Updates from 2019 Election Campaigning:
Vote to make democracy stronger, says PM Modi
PM Modi thanked the people of Varanasi after filing his nomination and urged voters to exercise their franchise to strengthen democracy. "I am thankful to the people of Kashi. After five years, they have given their blessings to me again," he told the media after filing his nomination at the Collector office.
PM Modi said the "longest-ever roadshow" in the city that started on Thursday evening and continued until Friday could have been possible only in Kashi, as Varanasi is popularly known.
Asking voters to vote, he said: "Some people are (saying) that Modi is winning, so there is no need to vote. Do not fall for it. Voting is your right and everyone must vote."