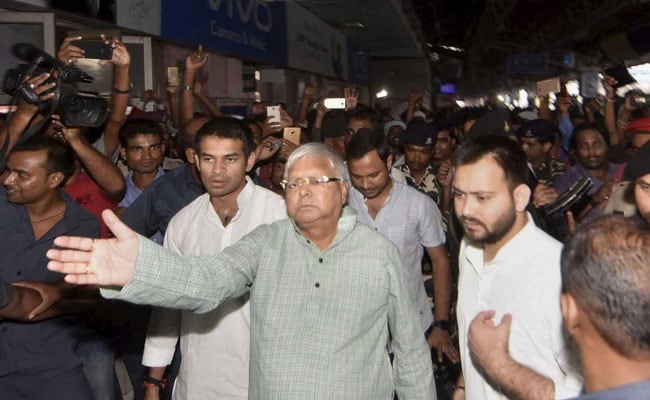 Patna:
The next assembly election in Bihar will see a face-off between Nitish Kumar and Tejashwi Yadav. Mr Kumar's erstwhile ally Lalu Yadav has made the line-up official by naming his son his party's Chief Ministerial candidate for the next elections -- thereby establishing him the number 2 of the Rashtriya Janata Dal. The resolution was passed yesterday at the party's national executive meeting in Patna.
Party insiders say Lalu Yadav's objective was to establish his youngest son as his political heir. It has silenced senior leaders like Raghubansh Prasad Singh and Abdul Bari Siddiqui, who had expressed reservations when he had made his intentions clear.
The RJD chief is said to have received the boost from Tejashwi Yadav's lunch last week with Rahul Gandhi. The Number 2 of ally Congress is expected to take over the reins of his party soon.
Tejashwi Yadav, who tweeted photos of the lunch, has claimed that he has a rapport with Rahul Gandhi. Mr Gandhi, who is not always comfortable sharing stage with Yadav senior on account of the corruption allegations against him, sees the son as a "solid ally", sources have said.
Although the Congress has not reacted officially, it is known that they will back Tejashwi Yadav, even though he is facing investigation by two central agencies - the Central Bureau of Investigation and the Enforcement Directorate -- in the multi-crore Patna land scam.
Before he turned 29 last month, Tejashwi Yadav had been the deputy chief minister in the Nitish Kumar government for 18 months before the break-up of the Grand Alliance. He has held charge of several departments and unlike elder brother Tej Pratap Yadav, was seen as serious about the job, even though his father used to remote control the portfolios of both sons.
As the leader of the opposition, his performance is seen as lackluster.
Party leaders say barring his maiden speech as the Leader of the Opposition, he has remained in the news mostly due to his tweets.
Unlike his predecessor Sushil Modi, who always tried to corner the government with what he called evidence, Tejashwi Yadav has so far made allegations. Even in the Srijan scam, the biggest one to surface in the five months of the new government, he has issued allegations without backing them up.