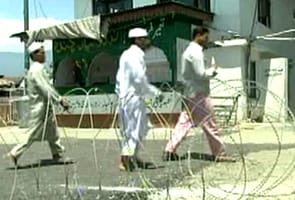 New Delhi:
As the Kashmir valley struggles to recover its peace, government sources say there is new evidence that some of the violence is being instigated by different groups.
Shabir Wani has been arrested on the basis of a phone intercept which allegedly has him ordering "10-15 people more must be martyred". (
Read: Wani held for asking for more deaths
)
Now, NDTV has accessed another phone conversation recorded as part of the government's surveillance exercise to help regain calm in Srinagar and other areas.
On record, a commander of the Hizbul Mujahideen is talking to a local suspect. The conversation proceeds as follows:
Abu Inquilabi: Stone-throwing has started.
Suspect: Stone-throwing has started.
Abu: Allah be praised.
Suspect: Allah be praised. Today, curfew was imposed at night.
Abu: Yes, I've also heard the army has been called.
Suspect: Yes, some troops have arrived.
Abu: There was no Army earlier...
Suspect: There are some troops in Srinagar, but here in Shopian and Pulwama, there is CRPF and police.
Despite these intercepts - and Home Ministry sources say there are several such conversations - even ministers of the state government say these intercepts do not change the fact that there are genuine protests reflecting real anger.