The 14-month-old JDS-Congress coalition in Karnataka lost the trust vote on Tuesday weeks after its 16 legislators and two independent lawmakers withdrew their support.
In the 225-member Karnataka Assembly, 20 lawmakers were not present in the House for the floor test. The BJP won 105 votes to the Congress-Janata Dal Secular's 99 in the trust vote.
HD Kumaraswamy stepped down as the chief minister. BJP's BS Yeddyurappa is set to become the chief minister for the fourth time as rival Congress lost another state under its belt.
Reacting to the fall of the coalition, the BJP tweeted that it was a "Game of Karma".
In a statement, the Congress attacked the BJP over "horse tradings". "The sabotage of a duly elected government in Karnataka carried out by the BJP is one of the most heinous and subversive instances of blatant political horse tradings the country has ever witnessed," the statement read.
Here are the highlights from Karnataka:
Instability may continue: HD Kumaraswamy tells bureaucrats
Claiming that instability may continue in the state, defeated Karnataka chief minister HD Kumaraswamy today asked senior bureaucrats to not depend on elected representatives for resolving problems faced by people.
"Today, I invited all my senior officers and thanked them. While I honoured them, I gave some suggestions. In future, same kind of political developments will take place, instability of government may continue even after the new government is invited by the Governor."
Caretaker Karnataka CM HD Kumaraswamy: A Govt order has been issued, I am happy that on my way out I have worked for the interests of the weaker sections. One can contact the Assistant Commissioner in the next 90 days to avail this benefit. https://t.co/VSSYnpmPeG

- ANI (@ANI) July 24, 2019
The lone BSP lawmaker N Mahesh in Karnataka, who was expelled from the party for not voting in support of the on the trust motion in the Assembly, claimed today that his party high command had asked him to abstain from voting and remain neutral.
N Mahesh, K'taka MLA: According to directions of high command, I was absent, staying neutral. It's a surprise for me as I have not violated any order.I haven't spoken to the party Supremo,I was away from Bengaluru for nearly a week. Today morning I came to know I've been expelled https://t.co/13zRpmHlOW

- ANI (@ANI) July 24, 2019
JD(S) Chief and Former PM H. D. Deve Gowda on Congress-JD(S) #Karnataka govt lost the trust vote yesterday: We have no regret of having the last coalition govt. We are not accusing anyone, including the former Chief Minister & other senior ministers. pic.twitter.com/zrkgeE2HKj

- ANI (@ANI) July 24, 2019
Karnataka: State BJP President BS Yeddyurappa's supporters gather outside his residence in Bengaluru. Congress-JD(S) government lost the trust vote yesterday. pic.twitter.com/YUIkwL1PwV

- ANI (@ANI) July 24, 2019
Karnataka Congress leaders meeting underway in Bengaluru following the defeat of Congress-JD(S) government during the trust vote in Assembly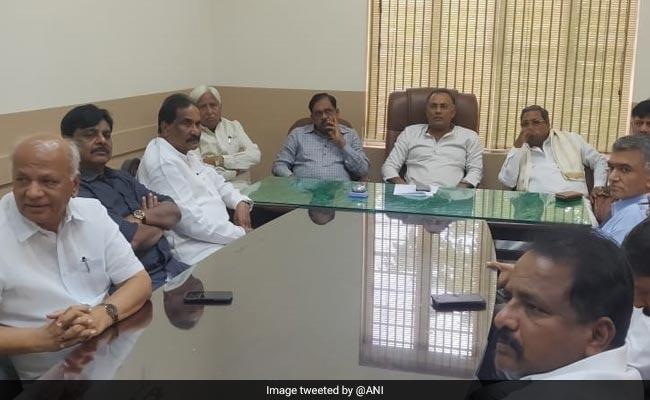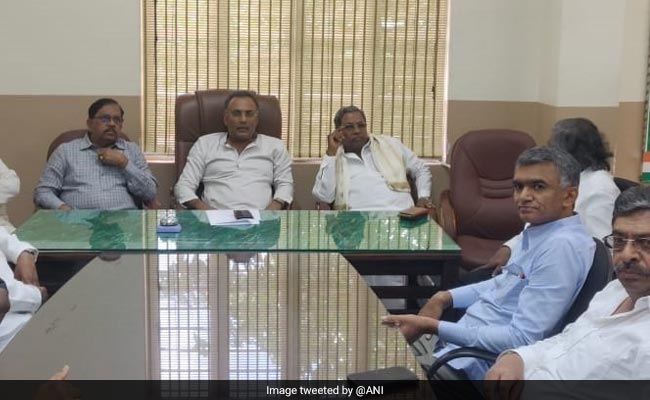 BS Yeddyurappa, BJP at RSS office in Chamrajpet, Bengaluru
BS Yeddyurappa, BJP at RSS office in Chamrajpet, Bengaluru: I came here to take blessings of senior leaders of the Sangh Parivar. I'm waiting for instructions from Delhi, at any point of time we will call for Legislature Party and then head to the Raj Bhavan. #Karnatakapic.twitter.com/uur15ku3Ya

- ANI (@ANI) July 24, 2019
The Supreme Court declined to allow state's independent lawmakers -- R. Shankar and H. Nagesh -- to withdraw their plea seeking direction to the Assembly Speaker to conduct floor test in the House immediately
Two Karnataka Independent lawmakers have urged the Supreme Court to allow them to withdraw their plea seeking its direction to the state assembly Speaker KR Ramesh Kumar to conduct "forthwith" floor test on a trust motion moved by the HD Kumaraswamy government.
Karnataka BJP to elect BS Yeddyurappa as legislative leader
The BJP in Karnataka will elect its state President BS Yeddyurappa as its legislative party leader and stake claim to form government in the state following the exit of the 14-month-old JD-S-Congress coalition government on Tuesday, a party official said.
"All our 105 legislators are meeting later in the day at the party office here to unanimously elect Yeddyurappa as the BJP's legislature party leader and meet state Governor Vajubhai Vala to stake claim to form the new government," party spokesman G. Madhusudan said.
BJP Workers Distibute Sweets Outside BS Yeddyurappa's residence
Bengaluru: BJP workers distribute sweets outside the residence of BJP Karnataka President, BS Yeddyurappa. HD Kumaraswamy led Congress-JD(S) government lost trust vote in the assembly, yesterday. pic.twitter.com/EEAeNoF7d7

- ANI (@ANI) July 24, 2019
"Everything Cannot Be Brought": Priyanka Gandhi Vadra Attacks BJP
Congress leader Priyanka Gandhi Vadra accused the BJP of horse-trading in late-night tweets and said "every lie is eventually exposed".
Until then I suppose, the citizens of our country will have to endure their unbridled corruption, the systematic dismantling of insitutions that protect the people's interests and the weakening of a democracy that took decades of toil and sacrifice to build.

2/2

- Priyanka Gandhi Vadra (@priyankagandhi) July 23, 2019
DK Shivakumar, Congress Troubleshooter, Quotes Voltaire After Coalition Falls
DK Shivakumar, the Congress leader who almost singlehandedly led the efforts to pull the Karnataka coalition our of trouble, quoted French philosopher Voltaire after the defeat in trust vote.
During the trust vote debate, I quoted Voltaire -

"Oh God, give me strength and defend me from my friends, I can take care of my enemies"

BJP is setting a bad precedent by forming Govt's through Operation Kamala. This has strengthened our resolve to fight to uphold democracy.

- DK Shivakumar (@DKShivakumar) July 23, 2019