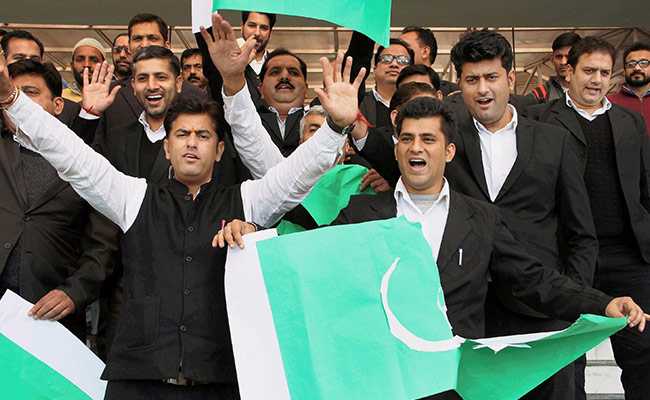 Jammu:
Lawyers of the Jammu Bar Association (JBA) held protests against Pakistan today against the release of Hafiz Saeed, the mastermind behind the 26/11 terror attack in Mumbai.
Lawyers of the JBA assembled at the High Court complex and held a demonstration against the release of Saeed by Pakistan.
They also raised slogans and tore Pakistani flags and later set them on fire.
"In January this year, Saeed was declared as global terrorist but Pakistan without taking any action against him, released him. On one side Pak has saying that we are fighting a war against terrorists and on the other hand side they have released Saeed who is involved in killing of hundreds of people in J&K through his terrorist activities," a protesting lawyer told reporters.
Lawyers called for another surgical strike on the Hafiz Saeed's terror network in Pakistan.
JuD chief Hafiz Saeed may walk free after a Pakistani judicial body ordered his release yesterday from house arrest, in a setback to India's efforts to bring to justice the perpetrators of the 2008 Mumbai terror attack.
The banned Jamaat-ud-Dawah head carries a bounty of $10 million announced by the US for terror activities and has been under detention since January this year.
The Judicial Review Board of Punjab province comprising judges of the Lahore High Court had unanimously ordered Saeed's release on the completion of his 30-day house arrest.
"The government is ordered to release JuD chief Hafiz Saeed if he is not wanted in any other case," said the board which was headed by Justice Abdul Sami Khan.