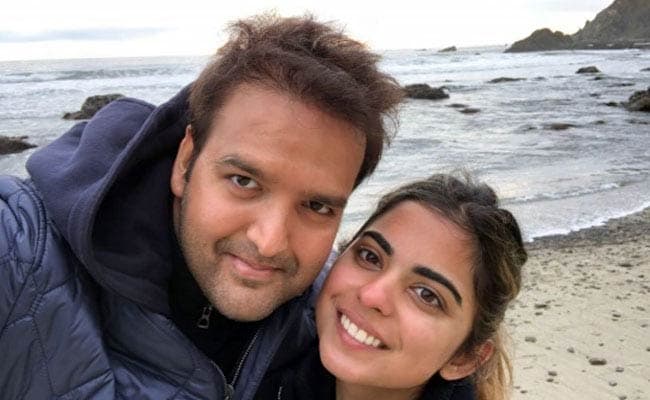 Mumbai:
Billionaire Mukesh Ambani and Nita Ambani's daughter, Isha Ambani, will marry Anand Piramal, the son of business tycoon Ajay Piramal and Swati Piramal in December this year. Isha and Anand's families have known each other for over four decades, and they were good friends themselves, news agency IANS reported. Anand, 33, proposed to Isha, 26, at a temple in Maharashtra's Mahabaleshwar, and she agreed to marry him, reports said.
Anand Piramal holds a bachelor's degree in economics from the University of Pennsylvania and an MBA degree from Harvard Business School. Anand is the founder of Piramal Realty and Piramal Swasthya, a rural healthcare initiative that treats 40,000 patients a day. Isha Ambani is on the boards of Reliance Jio and Reliance Retail. She is a Yale University alumnus and has a Bachelor's Degree in Psychology and South Asian Studies. She is doing an MBA from the Graduate School of Business, Stanford.
Anand's father Ajay Piramal is the chairman of the Piramal Group of companies, whose interests range from pharmaceuticals to financial services and real estate financing. Mukesh Ambani is India's richest man who heads the Reliance Group.
Earlier this year, Akash Ambani, the eldest son of Mukesh Ambani and Nita Ambani, and Shloka Mehta, the daughter of diamond magnate Russel Mehta, announced their marriage in early December.
Shloka Mehta is the youngest daughter of Mona Mehta and Russell Mehta. The Mehta couple own and run Rosy Blue Diamonds that is considered one of the world's largest diamond trading entities.
The Ambani and Mehta families go back a while, both hailing from Gujarat. Akash Ambani and Shloka Mehta are said to have studied together at the Dhirubhai Ambani International School (DAIS).
The 26-year-old Akash Ambani is the elder of the three siblings. He and Isha Ambani are twins while Anant is the youngest.
(With inputs from IANS)