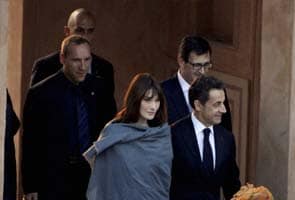 Bangalore:
"It is like a dream". This is how French First Lady Carla Bruni described her visit to India along with President Nicolas Sarkozy.
"It is my first time in India. It is like a dream," Bruni told reporters when asked to comment on her visit.
The French First Couple advanced their visit to Taj Mahal in Agra by a day. Sarkozy, who had last visited the Taj alone in 2008 could not bring Carla, then his girlfriend, due to protocol reasons.
After spending a few hours in Bangalore, the couple headed straight to the Taj Mahal, changing their earlier plans of going there on Sunday.
"I will pay tribute to this extraordinary civilization embodied by the Taj Mahal-- an unforgettable monument to eternity," Sarkozy said about the monument built by Mughal emperor Shah Jahan for his wife Mumtaz.
They stayed for the night at hotel Amar Vilas in Agra, from where one can get a beautiful view of the Taj.
Mediapersons were not allowed to follow the Sarkozys in the Taj Mahal.