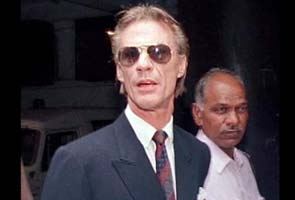 New Delhi:
Denmark has asked India to send a new proposal explaining why Kim Davy should be extradited.
Davy is wanted in India for the Purulia arms drop case - in 1995, he allegedly air-dropped hundreds of AK-47 rifles, anti-tank grenades, rocket launchers and over 25,000 rounds of ammunition over Purulia in West Bengal.
In 2011, a court in Denmark said he would not be sent to India because of widespread human rights violations in Indian jails. The Danish government did not appeal against that verdict in the Supreme Court, upsetting India.
Sources in New Delhi say the government is also exploring options on whether Davy could be tried in Denmark, if necessary, and imprisoned there if he is convicted.
In December 2005, Davy was on board a Russian-made cargo plane with UK national Peter Bleach who was allegedly working for British intelligence agencies, five Latvian crew members, and four tons of ammunition.
The plane flew into India from Pakistan, deviated from its flight path, dropped its dangerous cargo, refuelled in Kolkata and took off for Thailand, all without being detected.
A few days later, the aircraft inexplicably returned into Indian airspace, was recognized as unauthorised, and forced to land in Mumbai by the Air Force after .
Davy disappeared before officials could reach the aircraft.
Later investigations would show that Bleach had alerted Britain's MI-6 about the impending arms drop, which had in turn warned India, where no action was taken.
A theory offered by the CBI, disputed by many, is that the arms were meant for a sect called the Ananda Marg, which wanted to challenge West Bengal's Communist government.
Davy was traced to Denmark in 2001. The government there agreed to send him to Indian 2010, but he appealed against that verdict in a local court and won his case.