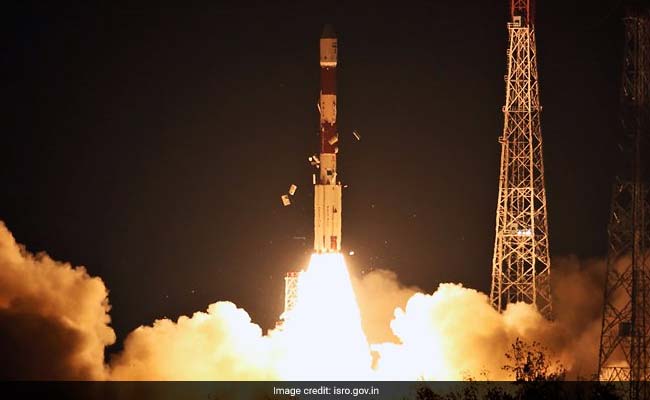 When the Polar Satellite Launch Vehicle (PSLV) lifts off on its 45th flight from Sriharikota in Andhra Pradesh today, it will have a very special guest aboard -- HysIS, the best-ever high-resolution earth imaging satellite to be launched into space by India. Besides this, the workhorse rocket will also bear 30 small co-passenger satellites from eight different countries, mostly belonging to the United States.
The PSLV, on its 45th mission, will place a total of 31 satellites in two different orbits. After the Indian satellite is positioned in an orbit 636 km over the earth, the last stage of the rocket will be reignited twice for it to come down to 504 km and release the smaller satellites. The entire process will extend over 112 minutes.
The Indian Space Research Organisation (ISRO) holds the record for launching the highest number of satellites in a single mission -- 104 -- on February 15, 2017.
The PSLV's main passenger, informally called 'Chhota Bheem' after a popular cartoon character, weighs a relatively low 380 kg. "HysIS is a very rare satellite with a super-sharp eye, and very few countries have indigenously mastered this technology," said ISRO Chairman Dr K Sivan. "Many countries are trying to send such hyper-spectral cameras into space but interpreting its results is not easy."
By "sharp eye", Dr Sivan means the most powerful camera ever developed by the ISRO for use in space. While the equipment was developed at the Space Application Centre in Ahmedabad under the leadership of its former director Tapan Misra, a special high-quality chip central to its functioning comes from the Semi-Conductor Laboratory based in Chandigarh.
Experts say HysIS will enable better identification of objects on the surface of the subcontinent, and aid in forestry, agriculture and smart city mapping. "Only the United States, China and the European Space Agency have systems as sophisticated as our hyper-spectral imaging camera," said Dr Kiran Kumar, payload specialist and former ISRO chief.
Former Air Marshal M Matheswaram -- who is now the chairman of The Peninsula Foundation in Chennai -- said the HysIS satellite will improve both day and night viewing capabilities, giving India an edge over other countries.
After this mission, the ISRO will shift its focus on launching India's heaviest communications satellite -- the GSAT-11 -- from Kourou in South America on December 5. Early next year, the ISRO will launch the Chandrayaan 2 to the Moon, where ISRO hopes to place a rover. The much-awaited Gaganyaan, which will carry a three-member crew to space, is scheduled for lift-off on 2022.