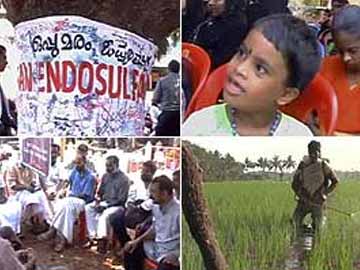 New Delhi:
India has agreed to phase out use of Endosulfan by 2017 and all existing stock of the pesticide in the country that is past its expiry date, government said today.
Minister of State for Agriculture Sanjeev Kumar Balyan, while speaking on a Private Member's Bill said even now the use of the pesticide had been banned after the Supreme Court passed an interim order.
He was speaking after members had expressed their views on a Bill introduced by P Rajeeve (Communist Party of India(Marxist)) which sought ban on the use and sale of the pesticide Endosulfan which was harmful for human beings.
Mr Balyan said his ministry had introduced a Pesticides Management Bill in Rajya Sabha and the matter is also sub-judice so a separate legislation to ban a single pesticide is not desirable.
He said that at the Stockholm Convention, India had agreed to phase out the use of Endosulfan by 2017.
Mr Rajeeve initially said he did not find the minister's reply satisfactory, but withdrew the Bill after the minister said that his suggestions about talking to Health ministry for establishing a hospital in Kerala and on issuing notification to ban Endosulfan would be considered.
Mr Balyan said pesticides had played a role in protecting crops from pests but they also had toxic properties because of which there is a need to regulate them.
He said the demand to ban Endosulfan had gathered strength after cases of health problems related to its use were reported in Kasargod district in Kerala where it was aerially sprayed on Cashew plantations. The state later disallowed the use of the pesticide.
He said some committees were formed to assess the damage caused by Endosulfan. He said the committees were not unanimous in their findings.
Mr Balyan said that like India there are other countries which intend to phase out Endosulfan.
Earlier in the discussion, several members supported the demand to ban the use of Endosulfan. Among the members who spoke were Ananda Bhaskar Rapolu (Congress) and K N Balagopal (CPI-M).