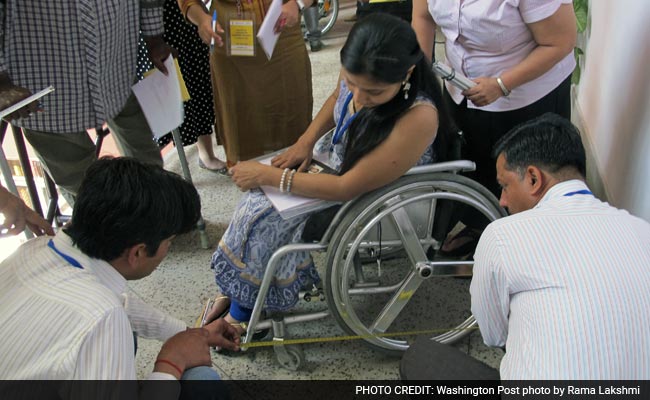 Highlights
Government to audit 2,500 public buildings across India for accessibility
Over 26 million disabled Indians face inaccessible buildings, roads etc
PM Modi launched Accessible India initiative in December 2015
New Delhi:
Go, inspect the toilets in the building, the trainer said, handing out a 17-page checklist and a tool kit to the students. She told them to measure the width of the wheelchairs, height of the ramps, weigh the force of the door, and look for Braille signage.
"Even if a building has an accessible toilet, it usually is used as the storeroom or a janitor's room," one student said. "We experience the horror every day. But now we will rate the system."
The students, mostly people with disabilities, were attending a training session to become accessibility auditors this summer when the government will begin a first-time audit of 2,500 public buildings across India.
Prime Minister Narendra Modi's new push for accessibility has galvanized a disability rights movement in a country with a notably poor record on inclusive infrastructure. Experts say that the Accessible India initiative launched in December focuses for the first time on removing the barriers in the environment - a radical cultural shift from the charity and pity model that has long dominated how Indians have viewed people with disabilities.
Indians most commonly have served the disabled with a sympathetic helping hand and monetary donations but rarely envisioned a world in which they could function independently. That has left the more than 26 million people with disabilities in India facing inaccessible roads, buildings, schools, television programs and information. And activists say it places India at a stage similar to where the United States was in the 1960s. There are roughly 1 billion people with disabilties worldwide.
"Not too many people in India even know what disability access means. This is the first ever systematic effort to create a culture of accessibility," said Mukesh Jain, joint secretary of the Department of Empowerment of Persons With Disabilities. "We just have 18 auditors today. We have to develop a pool of at least 1,000 trained accessibility auditors in the next four months."
Over the next year, Jain hopes to inspect public buildings, airports and railway stations, redesign government websites and open a sign language university.
"Almost half a century was a washout for Indians with disabilities. It was only in 2001 that India began counting disabled people in its census," said Javed Abidi, chair of Disabled People's International. "And now, top government officials are discussing disability on a weekly basis. This has never happened before."
In a recent Sunday morning radio address, Modi even suggested replacing the word disabled in Hindi with "divyaang," or "people equipped with a divine ability."
But despite the new effort, activists say change will be neither swift nor easy.
A new disability rights bill to replace a 1995 law has been pending in Parliament since 2014. The bill proposes raising the number of disabilities from seven to 19, guarantees job set-asides and imposes six months in jail for violators of the law. Last month, there were reports that the government may drop mental illness from the disability list. But after protests, the government quickly denied the move.
On a recent morning in New Delhi, table tennis player Suvarna Raj's wheelchair had to be manually lifted by an onlooker because the pavement tiles were broken at a bus-stop that was officially declared accessible. There were no Braille signs or audio announcements of the bus schedule. And when her bus finally arrived, it stopped at least 25 feet away from the designated landing space where wheelchair users wait.
"The sidewalks are either broken or blocked by vendors and other hurdles like open manholes," Raj, 35, said. "On most days, I am forced to move my wheelchair on the road, competing with fast-moving traffic for space. I literally carry my life in my palm every time I leave home."
When she reached the train station, the counter for wheelchair users was so high that the clerk at the window did not see her. She kept banging on the wall to draw his attention.
Recently, Raj was denied entry into a New Delhi stadium to watch a wrestling match. She said the police said her wheelchair was a security hazard and the stadium had no ramps.
In January, a university professor said she had to crawl on the New Delhi airport tarmac from the aircraft after a long wait for a wheelchair.
But the biggest hurdle is the railways, which carry more than 23 million passengers daily. Few railway stations have ramps and Braille signs.
"The door of the coaches are too narrow and high. You just cannot enter a train with dignity," Abidi said.
Last month, the government said it would consider expanding the width of the doors in the new coaches. Over the next year, the government will also build one accessible toilet in every station in big cities.
Although India passed its first disability law in 1995, it was only when the renowned physicist Stephen Hawking visited in 2001 that officials scrambled to place ramps at four monuments in the capital. Despite a court order requiring public buildings to be accessible, implementation moved slowly. The Taj Mahal got permanent ramps only in 2009.
But the capital's historic sites are still generally not user-friendly places for the disabled.
"The accessible toilet is often far away from other toilets. It is locked, the key is missing, we have to request the staff to open it," said Neha Arora, founder of Planet Abled, which promotes tourism for people with disabilities. "The door knobs are not easy, and there are no grab bars inside the toilet. And the Braille information panel is mere tokenism."
Meanwhile, many say they do not like Modi's suggestion for a new name.
"Right now we are below the ground level as far as rights and dignity go," said Mridu Ram Goel, a wheelchair user who heads an advocacy group called Handicare. "First bring us to the level of earth. You can call us celestial later."
© 2016 The Washington Post
(This story has not been edited by NDTV staff and is auto-generated from a syndicated feed.)