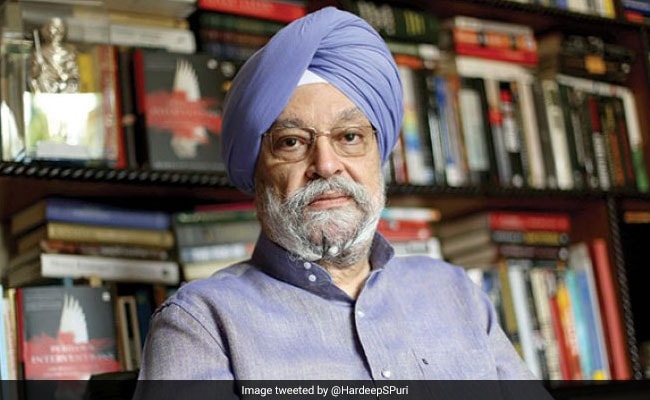 United Nations:
India will have to build a new Chicago every year to meet its massive urban demand as 40 per cent of the country's population is projected to reside in urban areas by 2030, Union Minister Hardeep Singh Puri has said.
Addressing the High Level Political Forum (HLPF) on Sustainable Development here yesterday, the Minister of State for Housing and Urban Affairs asserted that India's development goals will be met in an inclusive manner anchored in the human rights.
Mr Puri, who served as the Permanent Representative of India to the United Nations from 2009 to 2013, said that nearly 600 million Indians will reside in urban areas by 2030, the target year for achieving UN's ambitious development agenda.
"To lay further emphasis on India's urban prospects - from now till 2030, India has to build 700 to 900 million square metres of urban space every year. In other words, India will have to build a new Chicago every year from now till 2030 to meet its urban demand," Mr Puri told the UN forum attended by diplomats, top UN officials, civil society member, urban planners and national stakeholders.
Chicago is the third most populous city in the US after New York and Los Angeles with over 2.7 million residents and has an area of 606.4 square kilometers.
He stressed that India still had to build 70 per cent of the new urban infrastructure required by 2030 and this has to be green and resilient.
Mr Puri linked the success of the 2030 Development Agenda to India's national success in achieving the Sustainable Development goals, saying that "if India succeeds, the 2030 Agenda will succeed."
"The Millennium Development Goals succeeded because China was able to lift hundreds of millions of people out of poverty and I say with equal conviction," that India is well on its way to achieve its 2030 Agenda.
"India's national development goals...policy initiatives for inclusive development converge well with the SDGs, and India will play a leading role in determining the success of the SDGs, globally," Mr Puri said.
He asserted that India will achieve its development goals, including the SDG Goal 11 of sustainable cities and communities, in an inclusive manner anchored in human rights.
"We will resettle people in slums on an as-is-where-is basis, that is they will be resettled where they are living," he said.
At present, over 30 per cent of India's population, on a base of 1.2 billion, lives in urban centres, as compared to 17 per cent of the population living in urban areas at the time of India's independence in 1947.
Addressing the session on making cities and human settlements inclusive, safe, resilient and sustainable, Mr Puri said flagship programmes implemented by the Indian government were moving in a direction to ensure that India succeeds in the 2030 Agenda.
Mr Puri, who is also President of the Governing Council of UN-Habitat, told the forum that India was implementing some of the world's largest and most ambitious national schemes for social inclusion, economic growth, and environmental sustainability, through silo-breaking approaches.
He, however, highlighted that urban areas in India faced multi-pronged challenges and a complex ecosystem in ensuring housing for all, technology-based solutions to enhance service delivery, better mobility and greener transport, smart governance and in doing more with less.
"By promoting cooperative federalism, ensuring integrated planning through convergence, and focusing on an outcome-based approach compared to a project-based approach, we have embarked upon the most ambitious and comprehensive programme of planned urbanisation ever undertaken in the world," he added.
More than 90 per cent of the global urban growth is occurring in the developing world and India, China and Nigeria will together account for 35 per cent of the growth in the world's urban population between 2018 and 2050.
"It would not be an overstatement to say that India's urban agenda will constitute one of the defining projects of the 21st century," he said.
Outlining the various ambitious programmes launched by India, Mr Puri said the country's international commitments are mirrored in the national development goals.
Mr Puri said the Pradhan Mantri Awas Yojana or the Prime Minister's scheme on Affordable Housing for All is the world's largest housing programme for the poor under which the government aims to build 11 million affordable homes for urban Indians by the year 2022.
"We have already sanctioned over 5 million and are confident of meeting the targets by middle of 2019. Giving a fillip to gender empowerment, the title of each home under the Mission is under the lady of the house, or co-jointly," he said.
India is in the process of creating 100 Smart Cities to strengthen urban infrastructure by applying smart solutions, Mr Puri added.
"With India striving to meet its national socio-economic development targets, achieving the 17 Sustainable Development Goals (SDGs) and the 169 targets linked to them will be a major success story of the millennium affecting more than a billion persons all at once," he said.
Established in 2012, the HLPF meets annually under the auspices of the Economic and Social Council (ECOSOC).
It is the main United Nations platform on sustainable development and has a central role in the follow-up and review of the 2030 Agenda and the SDGs at the global level.