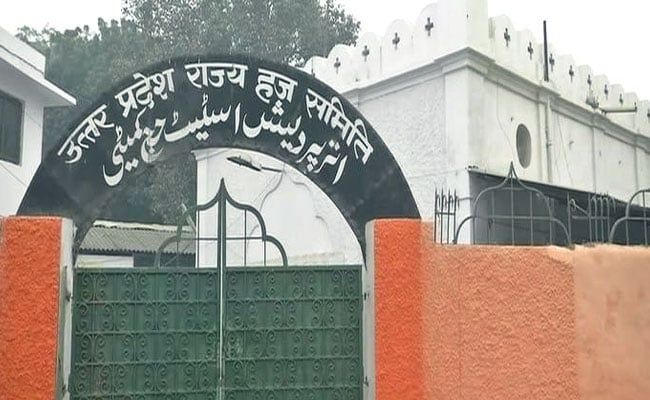 Highlights
Yogi Adityanath government repainting government buildings
Change of colour hasn't gone down well with Muslim community leaders
Last year, facade of Lal Bahadur Shastri Bhawan got all-saffron coat
Lucknow:
The wooden gate of the Haj committee office in Lucknow is still green. But the boundary wall of the complex in the heart of the city has overnight got a fresh coat of paint in a different colour: saffron.
The Yogi Adityanath government had started the drive to repaint government buildings in the Uttar Pradesh capital, usually painted in white, in saffron.
The Chief Minister had started with his office complex or the state secretariat
, located opposite to the Haj committee office, last month.
The change of colour at the Lucknow office hasn't gone down well with the Muslim community leaders.
"Painting the Haj house saffron is really objectionable," Muslim cleric Shahar Qazi Maulana Abul Irfan Miyan Firangimahli told NDTV.
"Saffron colour is being used for political purposes. Do they want Haj pilgrims to wear saffron next?" he said.
The Haj committee helps Muslims embark on an annual pilgrimage to the holy city of Mecca in Saudi Arabia. The spiritual journey is done in unstitched white clothing, reflecting a pure heart and a pious disposition.
Shia Personal Law Board member Maulana Yasoob Abbas wondered if the colour would be changed again at the rate every time the government changes in the state.
"It should remain in its natural colour. When a new government comes tomorrow, it will be painted in green. If another government comes, it will be painted in blue," he said.
Mohsin Raza, the state's minority affairs minister, however, sees nothing wrong in the emphasis on saffron.
"It (saffron) emits light, and that creates energy," Mr Raza, a first-class cricketer who became the BJP's Muslim face in the state, said.
"Anyone who embraces saffron will see light and energy in his life," Mr Raza, a first-class cricketer before joining the BJP in 2013, said, endorsing the Chief Minister's choice of colours.
Yogi Adityanath, who is always seen in saffron and is referred to as
Maharajji
by his followers, is known for his predilection for the colour and appears to surround himself with it wherever he travels. In meetings or press conferences, a saffron-coloured towel usually drapes the chair of the saffron-robed Chief Minister while for everyone else, it is white.
In October last year, the facade of the Lal Bahadur Shastri Bhawan, Uttar Pradesh government's headquarters, earlier painted in white and blue, also got an all-saffron coat for the first time.
Since then, the state government has already painted nearly 100 primary schools and a number of police stations in saffron. 50 saffron-coloured buses of the UP State Road Transport Corporation, named '
Sankalp Seva
' have also been launched to provide service in rural areas. The government has also made it clear that electric poles used to give power connection to unauthorised colonies also would be painted saffron.