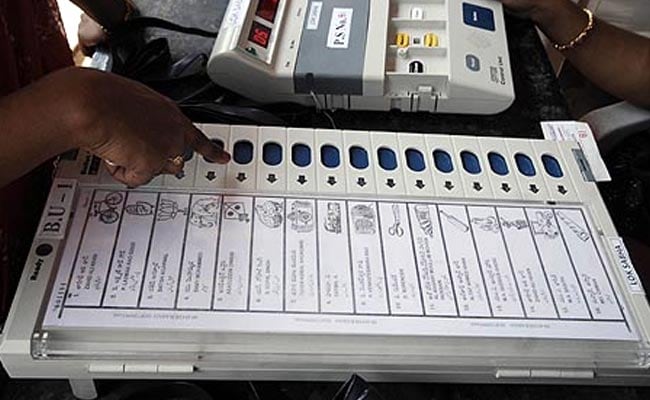 Chandigarh:
In a significant move, the Haryana Election Commission has decided to treat 'none-of-the-above' or NOTA option as a "fictional candidate" in upcoming municipal polls, making it a must for winning candidates to secure more votes than those cast for NOTA.
Elections to the municipal corporations of Karnal, Panipat, Yamunanagar, Rohtak and Hisar and municipal committees of Jakhal Mandi in Fatehabad and Pundri in Kaithal will be held on December 16, Haryana Election Commissioner Dalip Singh said Thursday.
"NOTA will be treated as a fictional electoral candidate. If in the election, all the contesting candidates individually receive less votes than those cast for the fictional candidate, NOTA, none of the candidates will be declared elected. The polls will be cancelled and held afresh," he explained.
Mr Singh said while declaring the results, NOTA will be treated as a fictional electoral candidate for the first time in the electoral history of the country. He said the candidates securing lesser votes than NOTA would not be eligible to file nominations for fresh polls to be held later.
If a contesting candidate and the NOTA both receive equal valid votes, the candidate, and not the fictional candidate, shall be declared elected, he said.
The voting for the five municipal corporations will be held from 7.30 am to 4.30 pm, he said. The results will be declared on December 19.
As many as 1,092 polling booths will be set up in 136 wards of the five municipal corporations.
All main political parties in the state have said they would fight polls on their respective party symbols.
The nominations for the corporations and committees going to polls can be filed from December 1 to 6, except December 2 when it is a holiday.
He said 531 such candidates who had contested civic polls in 2013 were disqualified for failing to give their expenditure details.