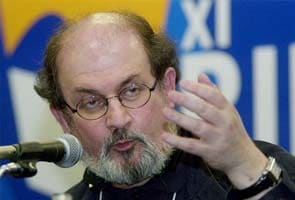 New Delhi:
Two months after he was forced to skip a literary fest in Jaipur, controversial writer Salman Rushdie tonight attended a function here amid tight security. The controversial author of 'The Satanic Verses', which was banned in India owing to protest from a section of Muslims, attended the 'India Today Conclave' at Taj Palace attended by a select group of invitees. The author at the Conclave, slammed Pakistan's cricketer-turned politician Imran Khan, who skipped the function because of Mr Rushdie's participation.
This is what Mr Rushdie said:
Imran was told well in advance I was coming. Imran is a man of the old school. Maybe he doesn't know how email works. This man wants to be the ruler of Pakistan.


If you want to placate mullahs, don't leave a paper trail. Imran said I caused immeasurable hurt to Muslims. In real world, immeasurable hurt is caused by terrorists based in Pakistan who attack countries like India. Imran wants us to talk to lashkar.


Imran is now scared of facing my bouncers.


Two months ago on Indian TV I promised I would be here. I have to thank Imran Khan. I was going to speak at a less important session. I thank him for this promotion and for vacating this spot.


Here he is trying to placate mullah and placate Army while presenting himself as the acceptable face of Pakistan.


We don't need to give Imran Khan more publicity, which he needs.


Have you noticed the physical resemblance between Imran and Gaddafi? Could cast Imran as a slightly better-looking Gaddafi.


On whether he feels threatened by Imran Khan: More scared of the ex-girlfriends I've had than Imran Khan.


In our time, essential freedoms are in danger of society. In India also, not just egalitarian states. Public apathy is also damaging. Ideally, a writer should not be the subject. Should be the observer, not observed.


I would place a substantial bet that he has not read it (Satanic Verses). When Imran was a playboy in London, he was called Im the dim.


Imran may have been born again. He will have to be judged by this (the new Imran). Those of us who knew the young Imran don't remember him like this.


On the Congress- Years and years of kneeling down before every mullah did not work. It must feel sick.


I am not very fond of..let me not mention Chetan Bhagat..and yet I believe he has the right to publish..and live (Mr Bhagat is in the audience).


On Uttar Pradesh: Votebank politics going on again. Congress did this to no avail. Indian electorate is smarter than politicians and can see through them. 95 percent of the Muslims in India are not interested in the violence being done in their name.


On politicians like Omar Abdullah, Akhilesh Yadav and Pranab Mukherjee boycotting the Conclave (as mentioned by Aatish Taseer, who is moderating the Conclave): I am impressed with my effect. Really, they're that scared of me?


In the old days, we called this cowardice.



On Omar and Akhilesh: Sad that leaders supposed to be the next generation are behaving in old-fashioned way. I hope they will grow up.


I am not saying that I should be the only one to speak...only that I should also have the right to speak.