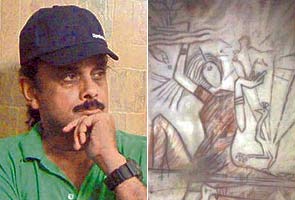 Chennai:
M F Husain's demise has spread gloom over the artist community, however, some feel it's not the time for grief alone. Chennai-based painter and sculptor Shihan Hussaini believes the country owes the late artist an apology and has decided to pay homage to him in his own special way.
"We owe him an apology. No efforts were made to bring him back to the country when he was alive. I will be painting a large canvas of Husain in my own blood as a tribute and I will write sorry on the top of the canvas," said Hussaini.
The artist has invited many from the community in Chennai and students from the Government Arts' College on Friday at 11 am to gather at his gallery in the city. The choice of blood for a medium is not new to Hussaini. "I have worked with blood before and think it is a great and powerful medium. This tribute is straight from the heart," he added. Hussaini's association with the great artist goes back to 1994- 95, when Husain was criticised for having painted Saraswati in the nude.
"I wanted to prove a point so I painted a saree on a replica of the Saraswati painting and painted Hussain in the nude below it. I told Husain about what I had done and he told me if done in the spirit of the art, he had no problems with it", said Hussaini.
"Now I plan to cover up the nude of Husain I had painted as a tribute," he added. Talking about Husain's art, Hussaini said, "After an artist's demise, there is a renewed interest in his works. Not many artists see such fame during their lifetime. Husain is perhaps the only one besides Picasso who saw such fame while he was alive."