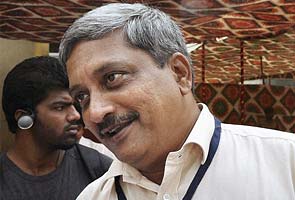 Panaji:
Goa Chief Minister Manohar Parrikar compared himself with cricket legend Sachin Tendulkar in context of his style of functioning.
"I am not like Salim Durrani (former cricketer) who used to hit six on demand from the crowd. I am like Sachin Tendulkar who sets his eye on the ball and hits at the right time," the Chief Minister said in the state assembly on Tuesday.
Mr Parrikar was responding to the demands for grants for Mining Department. The chief minister holds the Mines portfolio.
Mr Parrikar was accused by the opposition of not recovering money from mine owners who had been involved in illegal mining.
He assured the House that money would be recovered from such mine owners but only after following a proper procedure.
"It is an intricate, complex situation. I will recover the money but I need to first identify the accused."
Mr Parrikar said conversion fee will be charged for the iron ore dumped on government land.
Around 2,800 hectares of land is covered under mining dumps (heap of iron ore rejects), of which 800 hectares is in forest area, he said.
The government, he stated, expects to collect Rs 300 crore as conversion fee from the dumps on government land.
The government has also decided to take over the mining leases, which are not operational for long, and auction them, Mr Parrikar added.