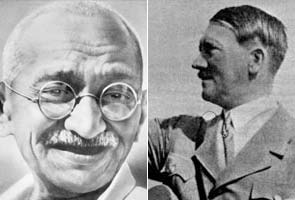 Mumbai:
This may sound strange, but in Gandhi's India, it is Hitler who is vying for attention.
History refers to Adolf Hitler as a dictator and an oppressor.
He may be a hate figure in the West but the Nazi leader appears quite popular in India. Selling his autobiography, Mein Kampf, penned in 1924, is almost blasphemous in Europe.
But it's one of the perennial bestsellers in Mumbai and indeed across the country.
The sales are increasing at a dramatic rate. Consider this: At the Strand bookstore in Fort, the sale has shot up by 600 per cent over the last two years.
"Before 2008, we used to sell barely 50-75 copies of this book per year, whereas last year we sold nearly 300 copies," said P M Shenvi, manager of the bookstore.
The trend in other parts of the country is no different. Jaico, leading among a clutch of publishers and distributors of Mein Kampf, sold nearly 15,000 copies last year. Jaico's editor R H Sharma confirmed the fact.
In stark contrast, Mahatma Gandhi's autobiography, The Story of My Experiments with Truth, is less popular then Mein Kampf.
According to the Crossword chain of bookstores in Mumbai, they have sold 1, 368 copies of Mein Kampf in the last six months.
Compare this to just 865 copies of The Story Of My Experiments with Truth for the same period. The all India figures are even more striking.
"We sold 1, 513 copies of Gandhi's book all over India during April and September, whereas 2,394 copies of Mein Kampf were sold in the same period," said S Balakrishnan, Manager Marketing, Crossword.
Odyssey, another bookstore in Chembur also claims to have sold more copies of Hitler's book than Gandhi's book.
What's more, Mein Kampf now comes with a DVD movie, which encapsulates the rise and fall of the dictator, making it an attractive buy.
Crossword and Landmark in Mumbai have sold more than 90 per cent of their available stock for the last three years.
Hitler's popularity is not limited to the book. T-shirts, bags and key-rings with his photo or name are selling like hotcakes all over the country.
A restaurant in Khargar was called Hitler's Cross and was decorated in red, white and black the Nazi colours, but the name was later changed after severe criticism.
Not surprisingly, most buyers are young male Indians.
Babloo Chandel, who tends the biography section at Crossword, said, "About 70 per cent of our customers are men, but mostly people in the age group of 18-35 come looking for this book."
But why have young Indians gradually developing a fondness for this book? Curiosity about Hitler and his appeal as a leader seem to be most obvious reasons.
"Hitler was a visionary and had the leadership skills to reach a particular position," said Ravi Dhanwani, a software engineer.
Avinash Saxena, who has read both the books, said, "Both of them tried to transform the society in their own way."
He claims to have discovered a newfound respect for Gandhi after reading his book. "Even among my friends Mein Kampf was more popular than The Story of My Experiments with Truth," he adds.
On the other hand, Ambarin Afsar, who has also read both books, finds it perplexing to see how people believe that they can gain insights into becoming future business leaders, better managers and entrepreneurs from the autobiography of a man who orchestrated genocide.
Explains Afsar, "I believe people want to know about the man who turned a nation into, as Daniel Goldhagen puts it 'willing executioners' rather than learn from the life of the man who taught people how to respect and value not just their own lives but the lives of others."
Several other publishers have jumped onto the bandwagon. "Several new publishing houses have now started publishing this book, so the cost has come down and more people can afford it," adds Shenvi.
Seems like Winston Churchill's verdict on Mein Kampf that it was 'turgid, verbose and shapeless' doesn't have takers in India.