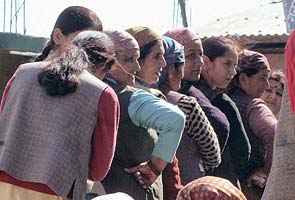 Shimla:
Both the Congress and the BJP flashed smiles and victory signs at the polling booths in Himachal Pradesh. But in this head-to-head battle for the hill state, the road to victory could pass through a crucial C-factor, corruption or cooking gas.
The BJP started its election campaign on the issue of corruption. But when similar charges were levelled against its party president, it switched strategy to focus on the issue of price rise, even promising free induction heaters if it returned to power.
The six cylinder cap on LPG has been a big talking point in the state, but has the BJP managed to overcome the anti-incumbency factor by focusing on it?
Himachal Pradesh Chief Minister is positive it has. "We are confident the induction chulha (heater) will work. More than half of those voting today are women who have to face the direct impact of price rise. The radiation of the induction heater will throw away the Congress."
The Dhumal-led BJP government is also fighting history. In 30 years, the state has never voted the same government back to power.
In a departure from its tradition, the Congress party gave a ticket to sitting Member of Parliament and five- time chief minister of Himachal Pradesh, Virbhadra Singh. Speaking to NDTV, he said, "The election issues this time revolved around development and Dhumal's corruption. These will be the deciding factors this election."
The BJP hopes to create electoral history like Punjab. For the Congress, after barely managing a wafer thin majority to come to power in neighbouring Uttarakhand, a good show in Himachal will boost the morale of party workers. Especially since multiple charges of scams and corruption have given the party hardly anything to cheer about.
(
Anand Patel contributed to this story
)