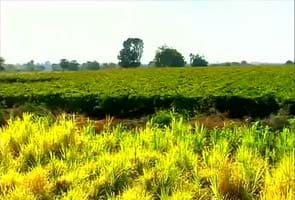 Kadavanchi:
Lush green vineyards, tons of luscious grapes, acres of maize and jowar, and most importantly, millions of litres of water- images that are in stark contrast to the despair visible across Marathawada's eight districts. This isn't Maharashtra's greener western belts of Konkan and Raigad, but this oasis is in the Jalna district in the heart of the Marathawada region which is in the grip of the worst drought since Independence.
The village of Kadavanchi, a half-hour drive from Jalna city has transformed itself simply by implementing rain-water harvesting projects. Nearly 300 villagers have captured rain water, which will serve them through this drought, securing over 3,000 villagers.
"I spend Rs 5.5 lakh in this project. But I'm elated with the results. We are not feeling the impact of the drought," farmer Bhagwan Shirsagar explains showing the pit where he still has 80 lakh litres of water and which has a capacity to store 1.5 crore litres of water.
Mr Shirsagar has been able to even make a profit of Rs 30 lakh, most of it by selling 2250 quintals of grapes grown across his 63 acres of land.
The region is largely in a rain shadow area where naturally precipitation is low. The monsoons failed in the last two years, Kadavanchi receiving 425 mm of rain fall in 2011 and only 198 mm in 2012, way below the districts average of 700 mm. "Though less, this is enough rain for water harvesting," Mr Shirsagar adds, as his wife enters with a plate filled with black and green seedless grapes grown at their farm.
"There is enough water even when the rainfall is 300 millimetres. So it is a matter of proper planning and policies, which is where the government has failed," economist and former member of Maharashtra's State Planning Board, H M Desarda, explains.
The success is credited to the Indo-German Watershed Development Programme (IGWDP) that focuses at rehabilitation of watersheds for the regeneration of natural resources. It was operationalised in December 1992 under the bilateral aid agreement between Germany and India and was managed by the National Bank for Agriculture and Rural Development (NABARD) and the Watershed Organisation Trust (WOTR) with the support of the Maharashtra government.
"If Kadavanchi could achieve this, then why can't the rest of Maharashtra?" Mr Shirsagar asks.
"That's because these are inexpensive ways to ensure water security. This is unlike irrigation projects where thousands of crores are sanctioned and there is enough money to siphon," Mr Desarda claims, alluding to the alleged Rs 70,000 cr irrigation scam that's plagued the government, especially the NCP which has been heading the water resources and irrigation departments for over a decade.