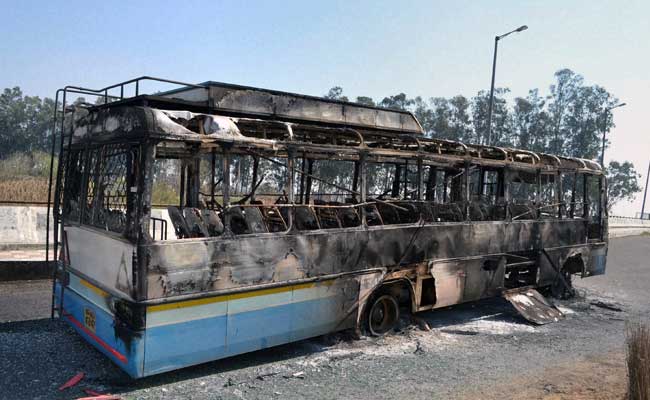 Chandigarh:
The death toll in the nine-day violent Jat agitation demanding job quotas in Haryana rose to 30, the state police chief said on Friday.
Director General of Police YP Singhal said 30 people lost their lives while over 200 people were injured in the agitation that paralysed life in the state.
At least 10 Haryana districts were severely affected by the violence.
A police spokesman said 13 of the dead were killed in Jhajjar district, eight in Sonipat, five in Rohtak and two in Jind and one person each died in Kaithal and Hisar districts.
Mr Singhal said the Army, which was requisitioned by the Haryana government to control the Jat protests, would start withdrawing from the affected areas.
"Normalcy is fast returning to the state. All railway tracks and highways are functional," he said.
He said 713 First Information Reports (FIRs) were registered till Friday and 133 people had been arrested.
"Anyone found to have indulged in arson, hatching a conspiracy or vandalism won't be spared."
The violence during the agitation saw several government buildings, private shops, malls, educational institutions, hospitals and showrooms being set on fire by hooligans.
Hundreds of shops were looted and set on fire.
A trade and industry body has pegged the losses in Haryana at around Rs 20,000 crore.
Rohtak bore the brunt of the violence with hundreds of shops and other establishments, government and private buildings and educational institutions and private hospitals set on fire and several shops looted.