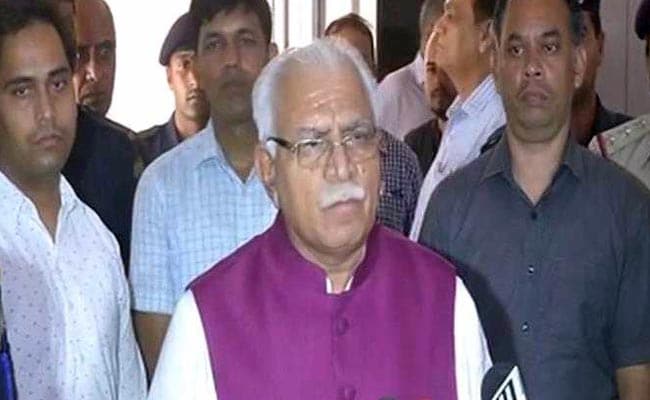 New Delhi:
After a meeting with BJP chief Amit Shah today, Haryana Chief Minister Manohar Lal Khattar, who has been facing intense criticism over his management of last week's crisis, gave himself top marks. His government, Mr Khattar said, handled the situation with "minimum force and minimum loss" and he was "satisfied". On Friday, 38 people died and more than 200 were injured as the guilty verdict for Gurmeet Ram Rahim led to widespread arson and violence.
"Don't care about what others say, we are satisfied with our work... We have been patient over the whole incident... the administration achieved the target of minimal loss during the course of verdict," said Mr Khattar.
Critics say the administration had not only failed to gauge the seriousness of the build-up at Panchkula, it had allowed the situation to go unchecked for fear of upsetting a strong voter base. In a severe reprimand, the Punjab and Haryana High Court, too, had told the Haryana government, "You let Panchkula burn for your political motives". The opposition Congress has demanded that Mr Khattar step down.
Today, the Chief Minister who came to Delhi to meet Mr Shah and Union Home Minister Rajnath Singh, said, "It is a democracy. So whoever supports us -- we take their support. But it is not done on condition that will allow the violation of the law and order situation. No one is bigger than the law."
More than one lakh of Ram Rahim's followers, who had poured into Panchkula for days ahead of the court's verdict, went on a spree of arson and violence minutes after he was found guilty of rape. Buses were burned, policemen were stoned and petrol bombs were thrown through the city. In the span of a few hours, the violence spread to neighbouring states and had even reached the borders of Delhi.