Highlights
Patel community members have led campaign demanding reservation
Have moved away from BJP, many led by Hardik Patel support Congress
WhatsApp groups are their preferred mode of sharing news, political cues
Mehsana:
In Dhampur village in Gujarat's Vijapur constituency, about two hours north of Ahmedabad, a group of young men loiter in the village square, hunched over their smartphones.
Vijapur falls in the Mehsana district, the heart of
Hardik Patel's rebellion demanding reservation
for the politically influential community of Patels.
That agitation, largely directed at the BJP government, has corroded the otherwise overwhelming support of the Patels for Gujarat's ruling party.
Hardik Patel is now a formal ally of the Congress, the main opposition.
As elections near, young Patel voters, like Vishal Patel, Darshak Patel, Milan Patel and Kartik Patel, do not see their movement getting adequate play in the media.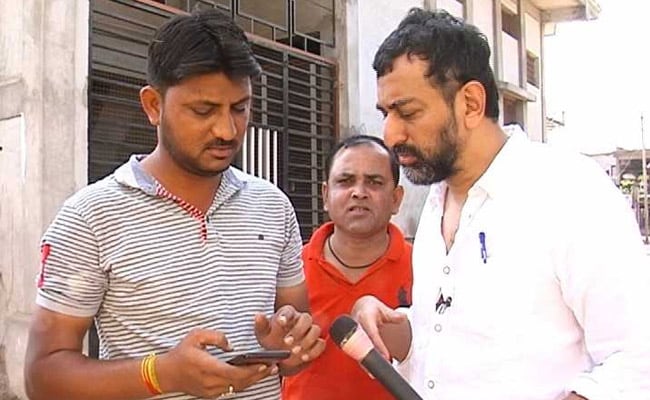 "Media has sold out to the BJP," said Montu, a resident of Dhampur, who like many in the area has instead, turned to WhatsApp for their news and political cues.
Montu said he is a member of about 10 WhatsApp groups, with names like "PAAS" or (Patidar Anamat Andolan Samiti - the group floated by Hardik Patel), "SPG" (Sardar Patel Group), and "Patidar of Vijapur Part-1".
He says each group has around 200 members, mostly other young people like him from Dhampur and nearby villages.
They have sprung up, we are told, in the same disorganised, leaderless manner in which the agitation proliferated.
"This area has 27 Patel (samaj) communities," he said. "All are on the group," he added.
We were shown recent WhatsApp activity on one of the groups - a stream of clips of Hardik Patel's latest rallies, videos and memes that are derisive of the Gujarat BJP leadership, even of Narendra Modi, and a lot of banter, most of it election-related.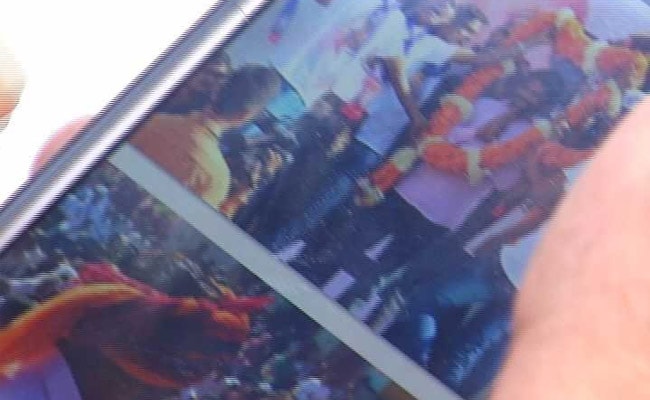 Videos of the August 2016 agitation, where 14 Patel youth were killed in police firing - a turning point in the Patel agitation - also reappear occasionally.
There are explicit political directives as well; in messages posted in one group we were shown, the group administrator calls for withdrawing support from the BJP, and to support the Congress instead.
Two kilometres away, in Govindpur, another Patel-dominated village, from another group of mostly young people, we hear of the same sentiment coursing through WhatsApp.
Vishal Patel, a lecturer in a medical college, says he too is a member of multiple groups, boasting members from his village as well as nearby ones. "I cannot estimate the number of members. They are countless," he said.
"We cannot show you our WhatsApp chats," Vishal told us. "Its private," adding "I can tell you the message is the same: defeat the BJP."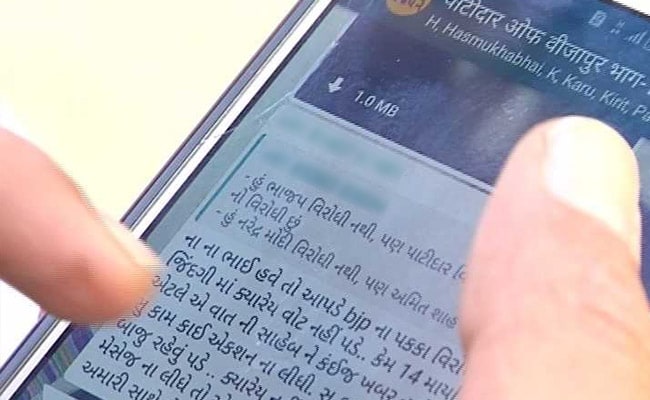 Over a third of Govindpur's voters - 1,500 to 2,000 - are Patels. About 60 per cent are with Hardik, they tell us; those votes will go to the Congress.
It's a trend that ought to worry the BJP, a party that has long dominated conversations on social media as well as chat platforms like WhatsApp.
BJP spokespersons say that what counts on voting day is grassroots cadre to get out the vote - something which gives them an edge over their rivals.
"I don't think the discontent being talked about will have any impact on the ultimate result and this time we are aiming for 150 plus seats because our organisational structure has become much stronger than earlier," BJP spokesperson Yamal Vyas told NDTV.
In Govindpur, the Patels tell us that they made up that BJP's election-time cadre for decades.
"We used to work for the BJP. Even the children used to work in the elections. Ask anyone. Not anymore," said Vishal Patel.