Ahmedabad:
Highlights
Rahul Gandhi has promised to include most of our demands: Jignesh Mevani
Mevani says he will do anything to "keep the BJP from returning to power"
Congress is trying to tap Dalit, OBC votes to win Gujarat elections
Young Dalit leader Jignesh Mevani met Rahul Gandhi near Gujarat's Surat on Friday and said the Congress vice president has promised to include most Dalit demands in his party's manifesto for next month's assembly elections. Mr Mevani has turned down a Congress offer to join it, but said on Friday that Mr Gandhi's "pro-active willingness to discuss our demands" was in contrast to the ruling BJP's "arrogance and refusal to even talk to us."
Jignesh Mevani did not say if he will campaign for the Congress, only stating, "we will do anything that is needed to keep the BJP from returning to power," accusing the ruling party of being "thick-skinned and anti-Dalit."
"Met Rahul
ji
. He told us 90% of our demands aren't demands but our constitutional rights which will be included in the Congress manifesto," Mr Mevani said as he got off a bus that he traveled in with Mr Gandhi to the site of a Congress rally in Navsari, about 15 km from Surat. The young activist did not share stage with Mr Gandhi. After their 15-minute meeting at a farmhouse where Rahul Gandhi addressed woman workers of the Congress, the two continued their discussions on the bus.
Rahul Gandhi took a dig at Prime Minister Narendra Modi with a reference to his radio show
Mann ki Baat
. "We do not listen to our
Mann ki Baat
. We will listen to the
Mann ki Baat
of Gujarat and will include it in the agenda of the government the Congress will form in Gujarat," Mr Gandhi said, also adding, "every section of the society is protesting. The BJP divides, while the Congress unites."
The Congress is trying to tap into the anger of the communities led by young activists in Gujarat like Mr Mevani and Hardik Patel, the face of the Patel or Patidar quota agitation, against the BJP and win their votes. Backward caste (OBC) leader
Alpesh Thakore
accepted the Congress' invitation and joined the party last week.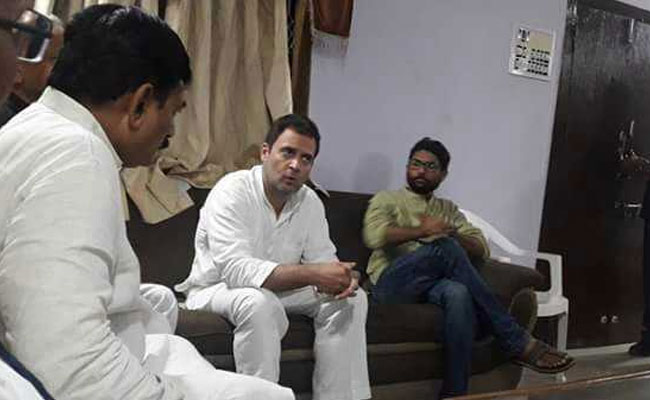 Hardik Patel has said he will support the Congress "directly and indirectly," though the party is yet to promise the inclusion of Patels into the state's list of OBCs so that they can get reservation in government jobs and colleges.
Jignesh Mevani reiterated on Friday that he
will not join any political party
. He said he would hold another meeting with Rahul Gandhi and leaders of the Gujarat Congress with other
Dalit groups
and NGOs to discuss their demands. "The demands of Dalits must be fullfilled...I am a worker of the public, we will do whatever it takes to bring down the BJP," he said.
Jignesh Mevani
hit the headlines last year as he organised protests after four Dalit men were brutally beaten by cow vigilantes in the state's Una. He has a list of 17 demands for Dalits that he says he has been trying to meet the state government but with no avail.
Elections will be held in Gujarat on two days, December 9 and 14, votes will be counted on December 18, along with those for Himachal Pradesh.