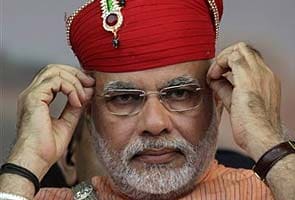 Ahmedabad:
Gujarat Congress chief Arjun Modhwadia has kicked up a new controversy ahead of the state assembly elections by comparing Chief Minister Narendra Modi to a monkey, prompting the ruling BJP to file a complaint against him with the Election Commission.
Mr Modhwadia, who likened Manmohan Singh to a lion, said that a monkey sitting on the top of a tree is trying to challenge him, hinting at Mr Modi without taking his name.
"He is like a monkey who is challenging the king of jungle to a duel from the top of a tree. He should know where he stands. King of jungle will not climb the tree but the monkey will have to come down to the land some time," he said.
"Modi doesn't have anything to say about what he had done for Gujarat in the past so many years, but every now and then he will blame Sonia-
ji
and Manmohan Singh and even challenge the PM to fight elections against him from Gujarat," Mr Modhwadia said at a poll rally in Junagadh yesterday.
BJP today filed a complaint with the Election Commission against Modhwadia for breach of model code of conduct over the remark.
"On the basis of media reports we have filed a complaint against Arjun Modhwadia and submitted the video footage too," BJP leader Parendu Bhagat said.
BJP spokesman Ravi Shankar Prasad described Mr Modhwadia's jibe Modi as "very unfortunate".
"I don't to give importance to such-substandard statement by commenting on it. It is for Congress to answer if such comments about a popular Chief Minister like Narendra Modi suits a senior Congress leader," Mr Prasad added.
Targeting Mr Modi further, Mr Modhwadia also said "If our Prime Minister goes to the US, (US President) Obama will come to receive him at the airport. But our man (Modi) is not even given visa to enter that country". The US had denied visa to Mr Modi after the 2002 Gujarat riots.