Ahmedabad:
Highlights
Congress's Indranil Rajguru will take on Vijay Rupani in Rajkot West
Rajkot West has been a BJP stronghold for almost four decades
Rajguru left his Rajkot East seat to contest against Rupani
Rajkot West has been a BJP stronghold for almost four decades, but in this assembly election, it is witnessing what could be perhaps its fiercest battle. In the fray are the richest man of the Gujarat assembly, Congress's Indranil Rajguru and the most powerful man in the government, Chief Minister Vijay Rupani.
Mr Rajguru -- who has declared assets of Rs 141 crore, in comparison to the Chief Minister's 7.4 crore -- left his Rajkot East seat to contest against the chief minister. "I have money and I can help people," said the legislator, whom the locals have dubbed "dhankuber" -- roughly an equivalent of King Midas. Mr Rupani's big advantage is that he has been handpicked by Prime Minister Narendra Modi, who governed the state for 13 years as its chief minister, before moving to Delhi.
Rajkot West is the largest constituency in the Saurashtra region. It has an electorate of over 3.15 lakh. Nearly a quarter of them, around 75,000, are Patidars, who have been fighting for quota in jobs and education.
Though Patidars have traditionally been BJP supporters, but now there is uncertainty on which way they would swing. The Congress has reached an understanding with their leader, 24-year-old Hardik Patel, who has vowed not to support the BJP.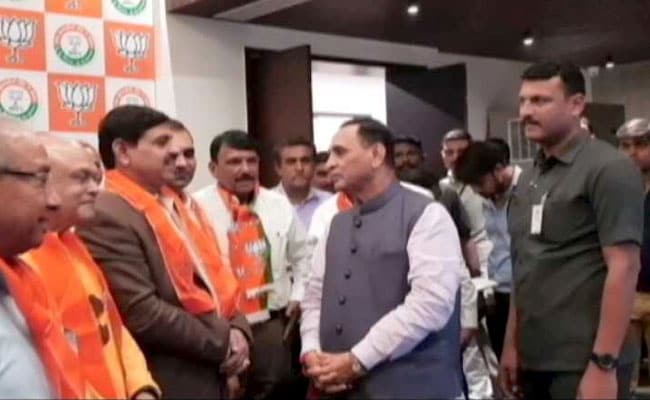 The other disadvantage for the BJP is the locals' grouse that there has been very little development in the area. What they find particularly galling is its status as a VIP constituency.
Dubbed "CM seat" by many, Rajkot West has given Gujarat three chief ministers - Keshubhai Patel, Vijay Rupani and Narendra Modi, who went on to become the Prime Minister. PM Modi had contested his first elections from this seat in 2001.
But locals say it has not even seen development that can compare even to Vadodara. Though nominated to the 100 smart cities under Centre's Smart City Mission, its infrastructure is poor.
"Anyone who stays in Vadodara can reach Ahmedabad in 90 minutes. But for people In Saurashtra it takes 4-5 hours," said a resident. "The difference is also seen in highway from Ahmedabad, which goes to Vadodara and Rajkot," they add.
"In many senses it is the capital of Saurashtra. It is a financial hub, gives so much revenue to the state. But development in the area is not at par," said a businessman from the area.
Locals say they do not even have a good hospital. "We have one civil hospital and entire Saurashtra region depends on that," said a senior citizen. The talk of setting up an AIIMS in Vadodara only irks them. Rajkot has many cancer patients owing to the locals' habit of chewing tobacco.